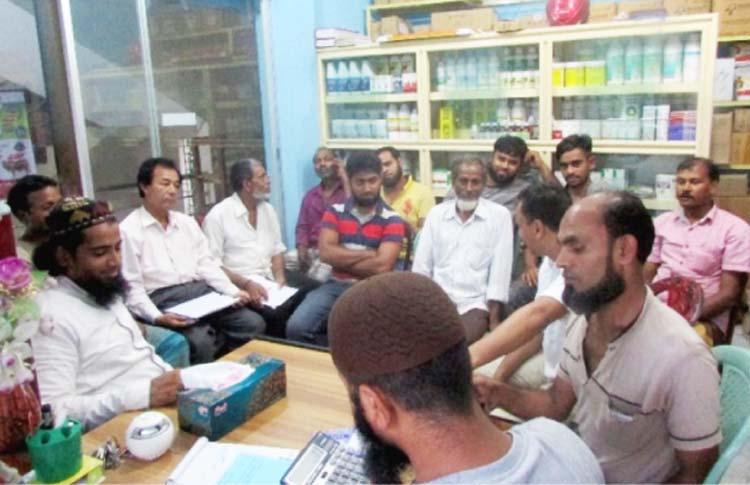 In Putiajani Bazar,DelduarTangail, monthly meeting for July was held on 31 July 2018 where 16 poultry farmers joined for the purpose of role and responsibility of poultry farmers to ensure food safety governance.
Sheikh Asaduzzaman, Poultry farmer, Kumarkhali, Kushtia shared his view that to protect poultry from any disease vaccine is very important and they always buy private vaccine from the dealer as they don't know about govt vaccine. Asad requested meeting organizer to assist them for getting govt vaccine that will support small scale farmers to reduce the vaccination cost. He also mentioned that sometimes they tried to collect govt vaccine from ULO office but most of the time they returned with empty hand due to unavailability of vaccine.
Bimal Das, Poultry farmer, Delduar said that due to big poultry merchants small scale farmers are unable to run their farms as high production cost in association with continuous losses for law price of live poultry. As big merchants are rearing large volume of poultry with fully mechanized system the production cost is minimal for them and they are always gainer as all merchants have their own feed, DOC and input and poultry market prices are regulated by them.
According to meeting decisions following recommendations were summarized:
All farmers should complete their farm registration as early as possible and BBF along with UCC will assist farmers regarding this
BBF and UCC team will meet with local DLS officials to know the way of getting regular vaccine for small scale farmers
UCC team will regularly visit poultry farmers to adopt good personal hygiene practices during their farm managements
BBF will organize monthly meeting/training/workshop on food safety issues of poultry feed as well as farms
UCC will meet with dealers and ULO officials for the formation of price fixation process
---
For Print Click Here
---
Comments Must Be Less Than 5000 Charachter