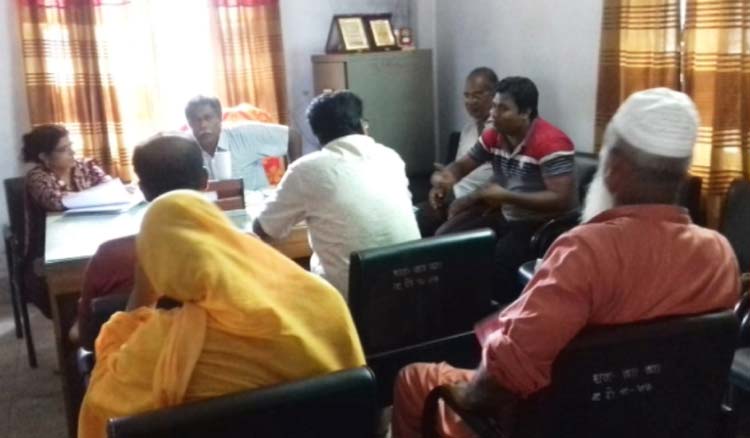 On August 27, 2018 a Monthly meeting of Upazila level Consumer Committee (UCC) was held in Nandalalpur Union Parishad, Kumarkhali Kustia where Nawsher Ali Biswas, Chairman, Nandalalpur Union Parishad was present as chair and Md. Arifuzzaman, Lecturer, Alauddin Ahmed Degree College, Kumarkhali was present as the special guest. The purpose of the meeting was to consult the achievement, challenges and recommendation of the consumer committee'swork among the members.There were 24 participants present ( 23=Male; 1=Female) in the meeting from local government representative, poultry farmer, LBM- Actors (Sellers), middle-men, local DLS, department of food, educational institution, civil society representative and BBF representative.
As UCC was formed to aware poultry value chain actors to ensure food safety from the farm to table and UCC started their regular meeting with themselves from the starting period. All members were agreed that poultry input dealers are now more aware regarding the selection and storage of poultry feed and member regularly visit poultry farmers to motivate farm owner for the adoption of good hygienic practices though this is very challenging due to behavioral mind setup of small scale poultry farmers. Due to continuous motivation and monitoring of poultry farms by the UCC, farmers are now practicing medicinal prescription under the supervision of upazila livestock office than previous. All live bird market of Kumarkhali Upazila are now more clean than earlier due to regular visit of LBM by theUCC reported by a live bird seller during the meeting.
UCC members shared their view as they faced challenges for the getting of registration of poultry farmers who reared less than 1000 bird that should be included in DLS registration process as soon as possible. Members of UCC wereagreed on meeting that a common identity card is needed for them as they linked with regular monitoring process of all actors where someone asked them to put their own identity to strengthen their voluntary work.
On meeting UCC members plan to conduct theirupcoming activities as: a public meeting at Kumarkhalirail gate,a human chain in Kumarkhali upazila complex, listing of registered and unregistered poultry farm in Kumarkhaliupazila along with continuous assistance for feed dealer and poultry farmer regarding their registration process.
As chair Nousher Ali Biswas, Chairman, Nandolalpur Union Parishad, Kumarkhali, Kushtia, actively participated on meeting and he delivered his thanks to all participants as well as organizerand he expressed satisfaction to learn the progress of the activities conducted by "Consumer Committee". He assured all members that his team will assist the CC regarding the solving of legal challenges and all members should bear their future activities for the sake of food safety governance in poultry sector as his closing remarks.
---
For Print Click Here
---
Comments Must Be Less Than 5000 Charachter