Skill and Design Development Trainings for Small and Marginal Weavers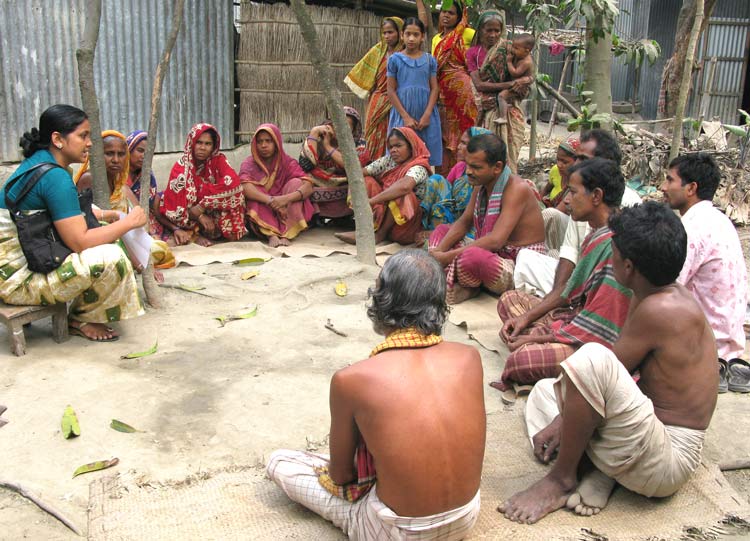 Annual Brief Report 2014-2015
During the reporting period, BeezBistar Foundation organized two training sessions on'skill and design development' in Tangail and Kushtia. The duration of each training session was for two days. The training mainly dealt with contemporary design and its relation with skill. Total 30 weavers attended in these two trainings.
During the sessions, weaves attended in these trainings were given some designs and the trainers narrated about them and explained how the weavers could accomplish them.
Meetings with Weavers
During the year 2014-2015, two meetings were organized in Tangail and Kushtia. The main purposes of these meetings were to discuss the problems of marketing of products, costing and quality of fabric. Total 40 weavers both men and women took part in these two meetings.
The weavers reported that because of lacking of adequate knowledge for costing, the weavers cannot fix the price of their products. The issue was dealt in the meetings and a guideline was provided.
Event; Celebration of International Days
Since the beginning, BeezBistar Foundation has been celebrated and observed International Days and events i.e. No Tobacco Day, International Environment Day, World Food Day, International Biological Diversity Day.
BeezBistar Foundation got these initiatives with other Like Minded Organizations, Ministry of Forest and Environment, Ministry of Food, Government of Bangladesh.
During the year 2014-2015, BeezBistar foundation organized rallies, human chain, gathering sessions, cultural sessions on the occasion of No Tobacco Day, World Food Day, World Environment Day. These events were organized in Tangail, Kushtia, Pabna, Natoe, Chapai and Cox's Bazaar.
---
Click Here To Print
---
---
Comments Must Be Less Than 5000 Charachter