Sharing sessions with Handloom weavers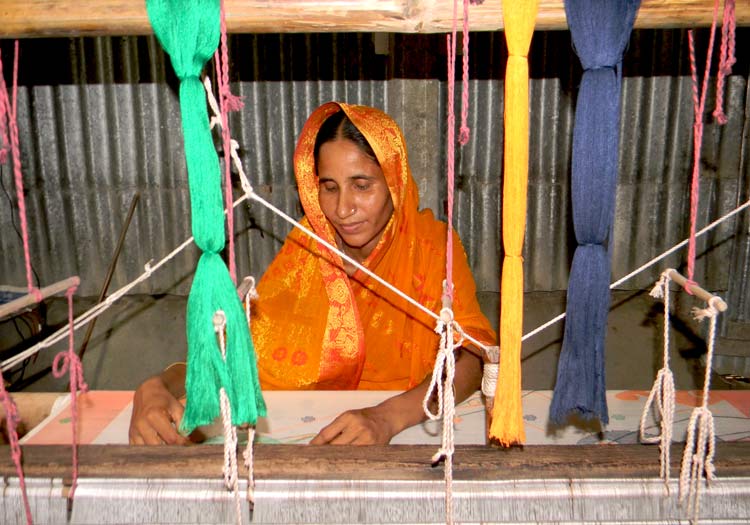 Annual brief report 2013 - 2014
During this reporting period 24 sharing sessions were held in the project sites of Tangail and Kushtia among the handloom weavers. There were 635 weavers attended attended the day long training. The main topics of the training included the following
a. The criteria for quality standard of yarn
b. Design development
c. Cost management
d. Storing of weaving products
e. Marketing of finished products
It was participatory discussion in the training that there were two designs mainly check Lungi and Jharna Lungi are much on demand in the market. In the check lungi there is one main check and involving the check there can be fifty patterns by changing clolor combination of yarn. The method of making different check and design there were discussion. The check include Guti check, Chata check, Patta check, Gadon coat check, Chiruni Khat check, Paiso check, Garur choc check, Sakal bIkal check and Kuchi Khar check.
The weavers are now making Jhorna designs in Lungi. The weavers buy yarn from the market and make butik by different colors. They make butik of different combination for weaving lungi. They can make about 100 patterns of Jhorna. The major jhorna designs are Mala or sikal jhorna, Ruhiton jhonra, Roket jhorna, Machi jhorna, Chiruni jhorna, Guti jhorna, Chit jhorna, Harton jhorna, Bada jhorna etic.
Practically the participants exercise the drawing of designs on papers. They also made calculation for translation of the designs in the looms. They discussed and debated on different color combinations for the developed designs and finally some designs and color combination were selected for practical implementation.
There was discussion on selection of design according different seasons and festivals. It was discussed that there was demand for lungi in white base with different check and jhorna. This is because during the eid festival people in the rural areas prefer white lungi with different designs and color for eid prayer.
In winter season lungi with black base and different designs on thick yarn is prefer for the winter season. This is because the thick lungies are protective against the cold in winter.
The discussions were held on different designs mainly on sharies. After long discussion the weavers selected four designs preferred by the consumers. These design include Manpura, Hazi jamdani, Shed designs and Net designs. They also discussed different dyes for weaving shari. They selected 14 colors for the base of sharies matching the borders. The colors include simpata, feroza, bottle green, orange, blue, ash, cream, akashi, khaki, mati, kura, black, deep blue and green.
This updating of color helped better marketing of shari in both rural and urban markets.
The training offered scope for improvement of the working condition of the weavers on the following aspects;
a) The weavers have increased capability for calculation of efficient use of yarn and raw materials
b) Variability of designs have increased and the weavers have learn the art of making varieties of designs.
c) Increased scope for selection of color and combinations there of.
d) Interactions among the weavers in different villages were established.
---
Click Here To Print
---
---
Comments Must Be Less Than 5000 Charachter