Mangrove for Livelihood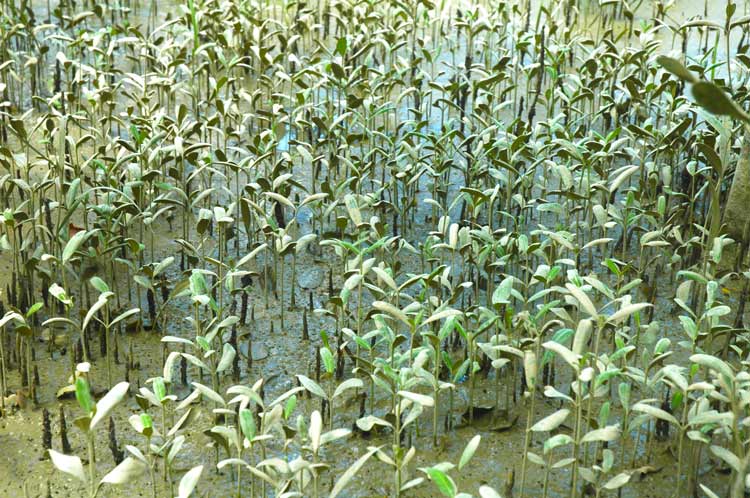 Safeguarding life and livelihood of Char Syedkhali
A Case Study on the Initiative of BeezBistar Foundation for Mangrove Plantation in Char Syedkhali of Zia Nagar Upazila. Submitted to HEKS. BeezBistar Foundation Dhaka, Bangladesh January 2012.
Background of Zia Nagar
ZiaNagar of Pirojpur District is a costal Upazila. It is a small Upazila consisting of only 3 Unions. Three (3) major rivers namely Kacha, Balishwar and Pankuchi are flowing around the Upazila. Among these 3 Unions Balipara is more vulnerable considering its geographical location and Char Syedkhali is considered as most vulnerable village among 11 Villages of this union. It is mainly because that Char Syedkhali island is the gift of two major rivers namely Balishwar and Pankuchi, which are flowing towards the Bay of Bengal. These two (2) rivers are thereby always flowing parallel way to Char Syedkhali. It is better to note that since last many decades river Balishwar has acted as a major river in South-western coastal part of the country. Literarily 'Balishwar' means 'the strength of god' and it implies that god expresses and presents his/her strength through this river Balishwar, which can create and destroy as well.
Char Syedkhali
Char Syedkhali is a small island. A total of 212 families are living in this island. Total population is around 1500. Farming, fishing, day laboring, wage labor for fishing in sea are the major occupation of the people.
The soil of Char Syedkhali is quite fertile. It offers mainly two paddy crops. These are Aus and Aman. Vegetable is not a major crop, but few households do plant leafy and winter vegetable like cucumber, radish, bottle gourd etc. The people of Char Syedkhali do eat less vegetable, but they have access to animal protein like small fish, crab etc.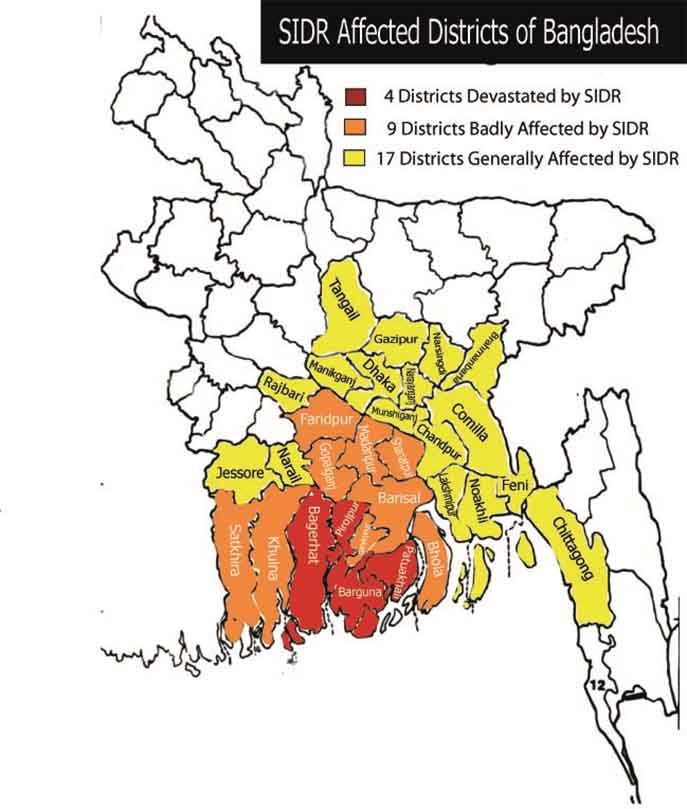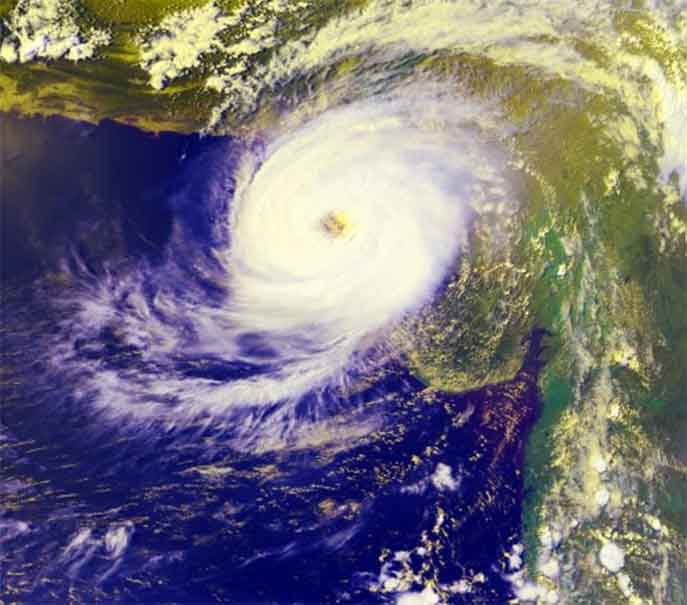 SIDR , November 2007, Photo by SPARSO, Bangladesh
---
Being an island of Balishwar, Charsyedkhali quite often becomes vulnerable due to tidal bore, cyclone and even during high tide time. The people of Char Syedkhali are still suffering from the nightmare caused by SIDR on 15th November in 2007. A total of 49 people of Balipara union lost their lives and 11 people are still traceless.
Learning from UBINIG
UBINIG – a leading policy research, campaign and advocacy organization in Bangladesh conducted both immediate and long-term reconstruction activities for the victims of SIDR. UBINIG also found that a number of opportunities are still open for long-term community reconstruction in this area. Among the areas, UBINIG noticed River Char Forestation activities with high priority. UBINIG experienced that River Char Forestation (River-line / Coastal-line Forestation Activities) has far-reaching impact on the lives and livelihood of the poor and marginalized people. On the other hand, the initiative can play as Safe-guard in the coastal area and can contribute a lot for all life forms in the coastal area.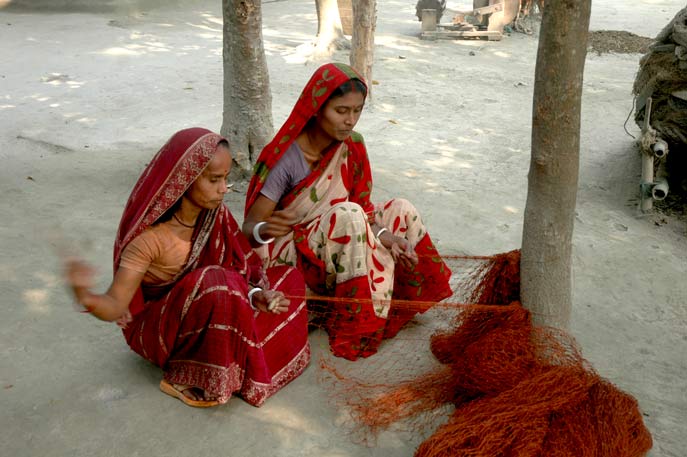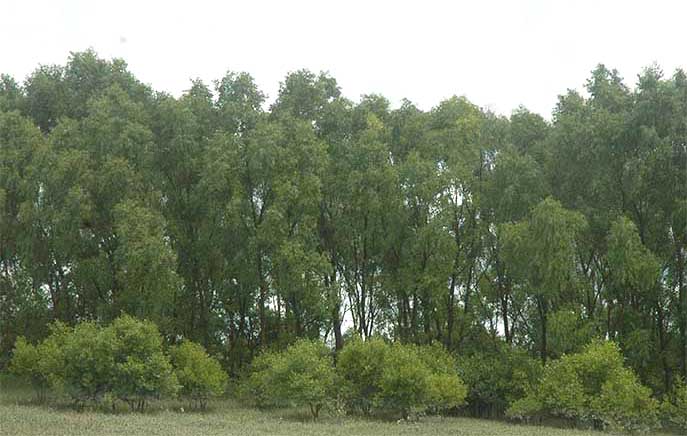 Women of SIDR victim fisher families preparing fishing net under UBINIG initiative. Mangrove plantation by UBINIG after cyclone 199.
---
BeezBistar Initiative
Under this consideration, BeezBistar Foundation took up the initiative in Balipara union of Zia Nagra upazila through a number of participatory consultation process. BeezBistar Foundation mainly involved community people including farmers, fishers, agriculture and fishery labors, community teachers and children, community leaders, Local government institutions (UP), Upazila Administration and Forest Department.
After the consultative process and formal permission from Upazila Administration, BeezBistar Foundation selected one (1) km from north-eastern char area in the east side of Syedkhali village.
As per experience of UBINIG in other costal part of the country namely in Chakaria and Moheshkhali upazila of Cox's Bazaar district, Beezbistar considered community mobilization as a priority task. It is better to mention that without community mobilization, the task is absolutely impossible as it requires community engagement since the beginning of plantation and in every stage related to growth of sapling. It is again obvious because the river char is one of the major sources of the livelihood for the poor and marginal farmers for grazing of cattle and collecting of grass. To the fisher the river char is fishing ground for catching fish. Thus a common understanding is essential among all the stakeholders for guarding the sapling from a sacrificing mode.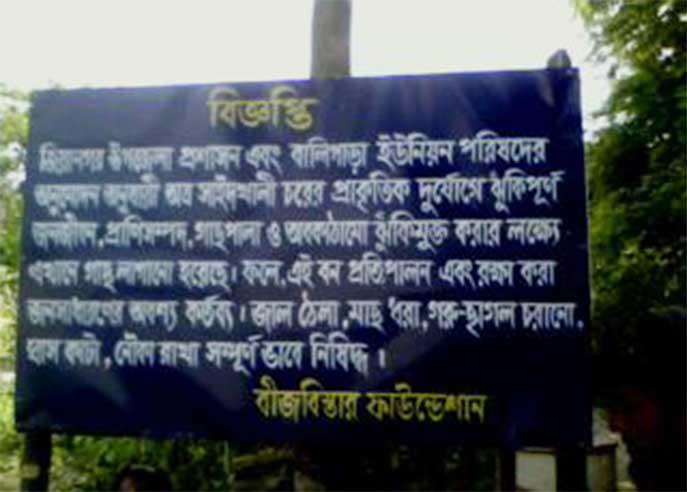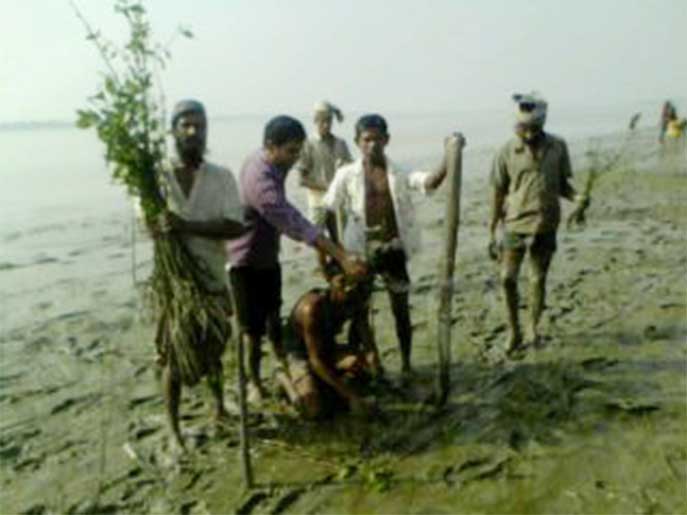 BeezBistar Foundation appeals to protect plantation area. Collective participation for plantation.
---
Selection and Collection of Mangrove Saplings
After community mobilization, community supervisors and volunteers devoted themselves to collect the saplings. They found that under Coastal Forestation Program the Department of Forest mainly deals with Chaila and Keora only. In few cases, they also collect some saplings of Bain. But the community perception differs from Department of Forest. The senior community people view that the selection of sapling variety depends on the specific plantation areas. If it is an erosion area, Gol, Nal, Hoogla and Pailta are more effective. These mangrove varieties can protect river erosion through their unique root systems. These are also the mangrove species, which only grow in inter-tidal zone and Char Syedkhali has this type of tidal feature because of three rives (Kacha, Balishwar and Pankuchi)
However, the saplings of Gol, Nal, Hoogla and Pailta are not easily available and the growths of these varieties are comparatively slower than Chaila and Keora. But these varieties can create a unique condition for breeding of brackish water fish and other aquatic species. In a report from Pakistan it was observed that as much as 90% of tropical marine species pass at least one stage of their life cycle in mangroves (Anonymous -----).
Survival and Mortality of Mangrove Saplings
Now, the mortality rate is a challenge for mangrove plantation program. The Divisional Forest Office in Pirojpur does not have any specific document related to tracking the mortality rate. The responsible field staff shared their idea that the average mortality rate is 30-40%. But it goes up if the salinity (PPT) of water rises. On the other hand, as the pick season for plantation involves July, August and September, so, if there is any excessive rainfall continues for more than two days, the mortality goes up.
| | | | | |
| --- | --- | --- | --- | --- |
| Sl | Name of Species in Bangali | Botanical Name | Quantity (No) | Mortality Rate (%) |
| 01 | Chaila | Sonaratia acida | 5030 | 30-35% |
| 02 | Keora | Sonneratia apetala | 3047 | 30-35% |
| 03 | Sundari | Heritiera fomes | 517 | 40%+ |
| 04 | Gol | Nypa fruticans | 1012 | 40%+ |
| 05 | Nal | Saccharum spontaneum | 201 | 30-35% |
| 06 | Hoogol | Typha angustata | 104 | 30-35% |
| 07 | Pailta | Cyperus pangorei | 106 | 30-35% |
| | Total | | 10017 | |
The above-mentioned rough estimates by the community super visor and volunteers indicate that the average mortality of Sundari and Gol is higher. The Department of Forest and the senior experienced people of this char have the same understanding.
During the field visit to prepare the case study, we met fisher Mohammad Altab Hossain (35 Years). Since last 10 years, Altab Hossain spends at least 4-5 months in every year in Sundarban area for fishing. They do operate the fishing as a team work. Altab described his experience that in Sundarban area, Sundari and Gol are not grown in every place. Both the species need a specific forest and inter-tidal condition and the growth of these species are comparatively slow.
However, the community supervisor and volunteers got the initiative to plant few Sundari and Gol saplings in Char Syedkhali forest and observing the growth and other problems and possibilities of these varieties.
The use of Nal, Hoogol and Pilta is very common in this area. The uses of these plants are known to common people as well. All these uses are very muck linked with agricultural practices. Nal is used for basket making and Hoogla and Pailta are used for preparing of mat for paddy and other cereal-type crops drying. All these products have economic value and these are sold in village market and weekly bazaar.
Perception about the Initiative
We met a wider range of people before preparing the case study. It includes Department of Social Welfare, Department of Forest, Farmers and Char Dwellers.
Department of Social Welfare
Mr. Mohiuddin Ahmed (45) is the Upazila Social Welfare Officer, Department of Social Welfare. He is responsible to coordinate all social development organizations, groups and initiatives in Zia Nagar Upazila. He was also present on the first-day of Mangrove plantation program by BeezBistar Foundation in Char Syedkhali village.
In response of this initiative Nr. Ahmed said that this is a good initiative that can create a number of possibilities. He added, this effort will bring positive results to protect the char and it will add value to the efforts of Bangladesh Government towards dealing with the challenge of climate Change.
Department of Forest
Mr. Nirmal Kumar Roy (50) is the Upazila Forest Officer and responsible to coordinate the Government Coastal Area Forestation Program in Pirojpur Forest Division. Mr, Roy is very much cooperative since the inception of the initiative of BeezBistar Foundation.
Mr. Roy said that in the context of adverse climatic condition, Bangladesh Government and specially Department of Forest cannot handle the huge task alone. So, the effort of BeezBistar Foundation is most welcome and Department of Forest will continue its official and legal support in future.
Farmers in Char Syedkhali
During preparation of this case study, the team also met some farmers to exchange the ideas and views about the initiative. Among the farmers Abdul Sipahi (45 years) expressed his sincere thanks to BeezBistar Foundation and said that the initiative may limit the farmers to collect fodder from the plantation area now, but in next few years it will protect the agriculture land from the challenge of river erosion and the yield will positively be increased.
Char Dwellers
Habiran Begum (47) is a char dweller. She maintains her livelihood by practicing agricultural activity in her small piece of land and collection of firewood and snails from the char area. She said that the initiative will bring more fish and aquatic specifies like snail in near future. It will thereby enhance the options of livelihood for the poor people like her.
Status of the Planted Saplings
The saplings of seven (7) species are growing well. The feature and shape of the plantation area was changing rapidly towards a small forest.
Refrains:
Three (3) unions are: Balipara, Pattashi and Parerhat

Dr. Sobhan and Dr. Saha 2010

Anonymous,---------. The Pakistan National Conservation Strategy, IUCN, Environment and Urban Affairs Division, GoP, P-44.
---
Click Here To Print
---
---
Comments Must Be Less Than 5000 Charachter