Study on Food Safety Governance in Poultry Sector, Bangladesh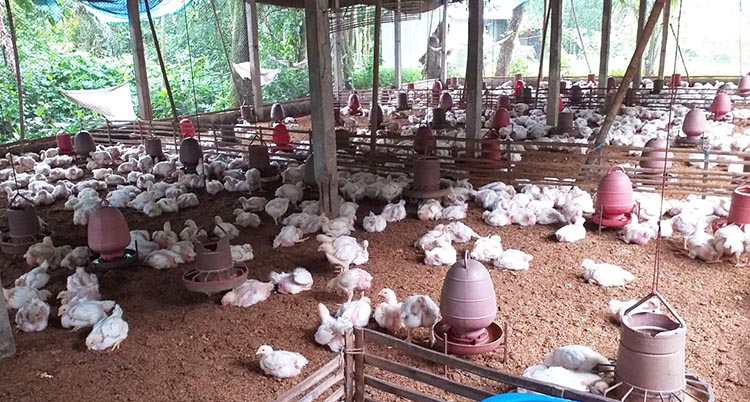 The Study of Food Safety Governance in Poultry Sector, Bangladesh was conducted by Beez Bistar Foundation during November 2016 to February 2017 under the aegis of PROKAS (Promoting Knowledge for Accountable Systems), British Council. It was an exploratory study know about safety aspects in the poultry sector. The major questions were:
What are the explicit and implicit incentives inhibiting or promoting the production of unsafe poultry products? Why do people do it/not take the time or spend the money to ensure safe production?
How do existing laws and policies regulate the poultry? To what extent are existing laws/policies enforced? What laws/policies serve to inhibit or facilitate safe food production?
What actors are connected to the food safety sector and the poultry sector in particular? How are they connected to the sector? What are the unique interests that determine the behavior of specific actor? To what extent do selected stakeholders view safer poultry production as in their interest?
The study was implemented through interviews and discussions with representatives of government departments, poultry industry, poultry farmers, poultry feed producers, drug and vaccine producers and importers and other stakeholders.
The salient findings of the study:
Bangladesh has a rapidly growing poultry sector. There are 78, 171 poultry farms in Bangladesh registered with the DLS . It is estimated that more than 50% of the poultry farms are registered on the estimate of varying figures of total poultry farms, including both registered and unregistered.
Poultry sector plays an important role for the supply of meat and egg as sources of animal protein in a country with 25% of the population undernourished and 36% of children stunted. The present per capita egg consumption in Bangladesh is only 32 eggs per person per year and that of meat is only 3.2 kg per person. More than 75% of the demand of egg and 90% of poultry meat remain unmet in Bangladesh .
There are traditional poultry farms and commercial poultry farms in Bangladesh;
a. Traditional Poultry farms- The traditional rural backyard poultry are scavenging or semi scavenging. About 80% of the rural households rear scavenging chicken in the backyard
b. Commercial Poultry farms are two types: Contract and Independent farms
Contract Poultry Farms
The contract poultry farmers have contractual agreement with integrator for supply or purchase of inputs and for supply or sale of outputs at pre-decided prices. The integrator also provides technical know-how to the contract farmers through a company supervisor.
Independent Poultry Farms
The independent poultry farmers run their business by themselves without any contractual agreement with a third party, bear all production expenses by themselves and accept all the risks and benefits resulting from their decisions.
The traditional poultry contributes 50% of egg and 40% of meat. The commercial poultry contributes 50% of egg and 60% of meat.
The poultry sector has been growing rapidly in Bangladesh and has contributed to livelihood and to improvement of diet with egg and meat. Poultry products are cheap sources of animal protein. Poultry meat contributes 37 percent of the total meat production and 22-27 percent of total animal protein. Egg production has been increasing in recent years. Poultry meat production has been doubled during last 10 years. In general, poultry sector contributes to poverty reduction, employment, women empowerment and human nutrition.
With a high population, income growth, urbanization and high income elasticity demand, poultry is also increasing day by day. There are about one thousand of fast food restaurant and hotels, 45 Chinese restaurant, 27 chain shops and 4-5 poultry processors operating in the metropolitan city of Dhaka alone.
Food safety in the poultry sector such as microbiological risk including Salmonella related poisoning, pesticide residues from feed production and resistance problem following the use of antibiotics in poultry production have become the concern for attention of government and citizens. The government concern is expressed through enactment of Fish Feed and Animal Feed Act, 2010, Livestock Extension Policy 2013 and Food Safety Act, 2013. The concerns of the citizens are noted in the rising demand for traditional poultry called deshi murgi, because of information about contaminated feed, use of antibiotics in commercial poultry etc.
There are 63 registered feed mills in Bangladesh. They produce poultry feed with wheat, maize and soybean.The farmers use feed made available to them by the dealers. They buy pellet feeds containing soybean, maize, rice bran from feed dealers of different feed milling industries. The farmers do not have much knowledge about different aspects for quality of feed, condition and nutrient content of feed. Generally the farmers are not aware of feed contamination.
Majority (99%) of drug in poultry are imported into Bangladesh from Europe and America and three countries in Asia including Japan, Korea and Singapore. Drugs expiry dates are not maintained. Producers do not have enough information about the quality of drugs. They are dependent on the dealers. Interviews with the poultry farmers showed that in many cases drugs were not effective for fowl cholera, dysentery and pox. For anti-biotic, farmers face uncertainty about the effectivity, leading them to repeated use of the same drug given by the dealers.
The major causes that make poultry meat and egg unsafe include:
Use of adulterated and contaminated feed
Shortage of vaccine
Excessive use of drugs
Use of date expired drug
Unhygienic production, slaughter, processing and marketing
Lack of disease control and
Inadequate inspection and monitoring for quality and standard control.
Diseases contributing to unsafe meat and egg
Many infectious diseases pose serious threat to poultry and safety of meat and egg in Bangladesh. The major diseases are Newcastle disease (ND), E.coli, Bronchitis, Coccidiosis, Salmonellasis and Avian influenza.
Avian Influenza and Salmonella are the serious threat to human health. There are no preventive measures against diseases of poultry except vaccination, which is not available to all the poultry farmers on time. The drug use is mostly for curative care of poultry diseases which may lead to use of sickened or dead poultry to be slaughtered.
Recommendations
Avian influenza surveillance in poultry birds and migratory birds should be intensified
Training of poultry farmers for application of preventive approaches and management of disease infection in case of avian influenza by the poultry producers.
Training farmers on poultry rearing and management
Organize training program for poultry producers on selection of breeds, feed, drug, vaccine and other aspects of poultry management including harvest and post harvest, processing, packaging, storing, transporting and marketing.
Live birds slaughtering in open space should be phased outPublic awareness should be created among the stakeholders including the farmers, traders and consumers.
Establishment of data bank on poultry industries
The poultry farms, feed producers, drug and vaccine producers should be surveyed and evaluated for operation, management and quality of products produced by the individual concerns.
National Poultry Development Policy 2008 should be implemented in the field
Public education of the poultry farmers, feed producers, drug producers and vaccine producers on different aspects of implementation of the national poultry development policy 2008
Hazard Analysis and Critical Control Point (HACCP) should be adopted to produce safe poultry products
Training of poultry farmers for production according to the principles of HACCP and good production practices.
Sanitary and Phyto-sanitary measures as per Codex Alimentarius Commission should be enforced in poultry sector
Stakeholders including poultry farmers, feed producers, drug producers and vaccine producers should be trained on the principles of Sanitary and Phyto- sanitary measures as per Codex Alimentarius Commission.
Prospective entrepreneurs should be given training to go for export market with chicken egg, meat and other products
Poultry farmers should be given training for production of safe poultry products
---
Click Here To Print
---
---
Comments Must Be Less Than 5000 Charachter