Waste Management System Developed in Delduar Dakhin Bazar Live Bird Market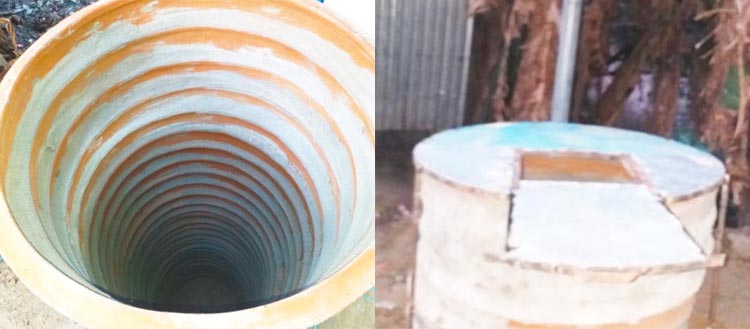 With a view to reducing the Live Bird Market (LBM) hazards, Dr. Habibur Rahman, Upazila Livestock Officer, Delduar designed an environment friendly low-cost pit/house for LBM poultry waste disposal. BeezBistar Foundation (BBF) held a discussion including the Upazila Livestock Department, Consumers Committee, and Local Market Committee for making the environment friendly waste disposal pit. Delduar Dakhin Bazar Committee provided the proper space needed for construction of the pit and the money for purchasing all the inputs. With strong multi stakeholder cooperation and support of all concerned the waste disposal pit was constructed and commissioned. The guests present at the formal inauguration sessions were upazila Nirbahi Officer, Upazilla Livestock Officer, Consumers Committee (CC) members, BBF staffs and market committee expressed their satisfaction for sustainable use. This type of effort may be taken up for management of waste in other live bird market in the Upazila.The successful construction of the pit for disposal of poultry waste as a result of joint monitoring by the Department of Livestock Services (DLS) and Consumer's Committee through the "Issue Based Project( IBP) on Food Safety Governance in Poultry Sector", Beez Bistar Foundation, was appreciated by all concerned.
Essential inputs:
6 inches high 30 inches wide 30 earthen rings made by potters for construction of pit/house.
Steel made lever: One
One shutter, 12 inches wide
One 10 feet high PVC plastic pipe
Step by Step process for LBM pit construction:
A relatively higher elevated space near the market was selected for preparation of the pit. Three feet wideand 12 feet deep pit was manually dug. The rings were set from the base to the surface. The rings were joined by cement with care so that there is no air space at the point of joining the rings. Total depth of the pit was 12 feet. There were 6 rings above the ground with about three feet height. The steel cover was fixed at the top of the pit with shutter. The opening of the pit is opened by pulling the shutter to put the waste in the pit and again the cover is closed so that no bad smell comes out. Finally the plastic pipe is inserted inside the pit so that bad smell goes up by the pipe. The pit will be used like normal sanitary tank. The decomposed waste will be taken out at some interval when the pit will be fully packed. In that way thepit will be ready for use again.
---
Click Here To Print
---
---
Comments Must Be Less Than 5000 Charachter