Recognition to live as a respectable citizen: Keya Khatun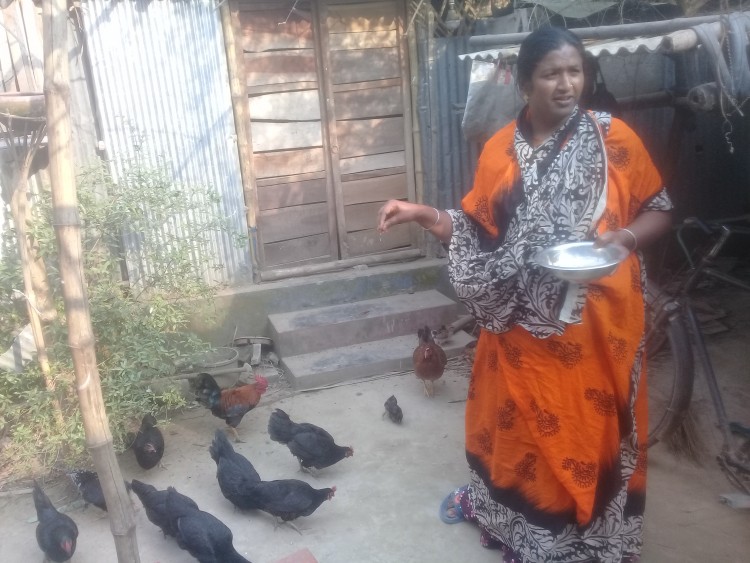 Gender and Social inclusion (GESI) is one of the key area that Issue Based Project (IBP) on Food Safety Governance in Poultry Sector project have been intensively working with marginalized group of the people. Keya Khatun, a transgender involved with the project through women poultry farmers group and became an entrepreneur poultry farmer. 44 years old Keya, daughter of Sanwara Begum and Suruzzaman: Jabdubouza, Kumarkhali, Kustia is a backyard poultry farmer.
Keya khatun was born in Charpakundia village, Madarganj upazilla, Jamalpur district. She has one sister and one brother. Her father is a small farmer. Her family members concealed her gender identity from childhood. She went school up to class V as a girl student. After that some people could understand her transgender (Hijra) identity and soon then her struggle as a social being started. Her entry in the school as a girl student was rejected even her own sister and brother started avoiding and neglecting her. Consequently she was almost confined at home.
Under these unbearable circumstances, at about 14-15 years of her age, she came across a group of transgender (Hijra). The group was visiting the village. They saw her and approached her to accompany them. The group also obtained permission of her family member to release her. Keya Khatun left her parents and accompanied the transgender group and came Kumarkhali upazilla in Kustia district. She had been earning her living by singing, dancing and extorting money from people. However, she was not happy with this kind of living as a social parasite. But her life changed when she met with a kind lady named Shamsunnahar. She offered Keya to live in with her at her residence.
After getting a shelter, Keya Khatun started thinking about a respectable life. She was encouraged with the example of poultry farmers. Initially, she purchased two hens and started rearing. She got profit from those hens which were encouraging for her.
One day Shamsunnahar learned about the formation of a women poultry farmer group including 12 farmers under the aegis of Beez Bistar Foundation in relation to 'Food Safety Governance in Poultry Sector Project'. There was regular meeting in the group for discussing the problems and opportunities of poultry farmers. Keya Khatun became interested to join as a member of the poultry farmers groups. However, she was afraid whether the group would accept her as a member or not.
One day Keya Khatun accompanied Shamsunnahar and joined the meeting of the women poultry farmers. Humbly keya Khatun requested the group to accept her as a member. In spite of opposition from some members the group finally accepted her as a member. After that she have been regularly participating the women poultry farmers group with support from the group members and Department of Livestock Services (DLS) as well. Initially she started with two hens and now she has 58 chickens in the flocks.
"I am blessed as a poultry farmer", mentioned Keya Khatun. "Excellent, I am thankful for being in this profession. Poultry has given me as identity in the society", she further mentioned. Previously, she had been kept away from any social gathering. But now the situation has been changed, she now feels proud as a member of the community. She has learnt the up-to-date art of rearing chickens as a member of the group of farmers. She goes to the Department of livestock services (DLS) along with other farmers for vaccine and other supports. Now she has a regular source of respectable income. She has no reason to look back and remember her cursed past.
"I am grateful to the poultry farmer's group of BBF 'Food safety Governance in Poultry Sector Project' as poultry for offering me economic, social and cultural opportunity as a citizen" she proudly said.
She has been asked about her future plan and she said, "I am thinking to have a bigger poultry farm." She further added, "I benefited very much from the Beez Bistar Foundation and the poultry farmers group of Food Safety Governance in Poultry Sector Project" which is now also belong to Keya Khatun. "I have got recognitions to live as a respectable citizen in the society"- she said proudly with her lovely smile. Once socially neglected transgender is now become a proud poultry farmer who is dreaming to have her own identity in this cruel world.
---
Click Here To Print
---
---
Comments Must Be Less Than 5000 Charachter