Safe Poultry Farm Management During COVID-19 Pandemic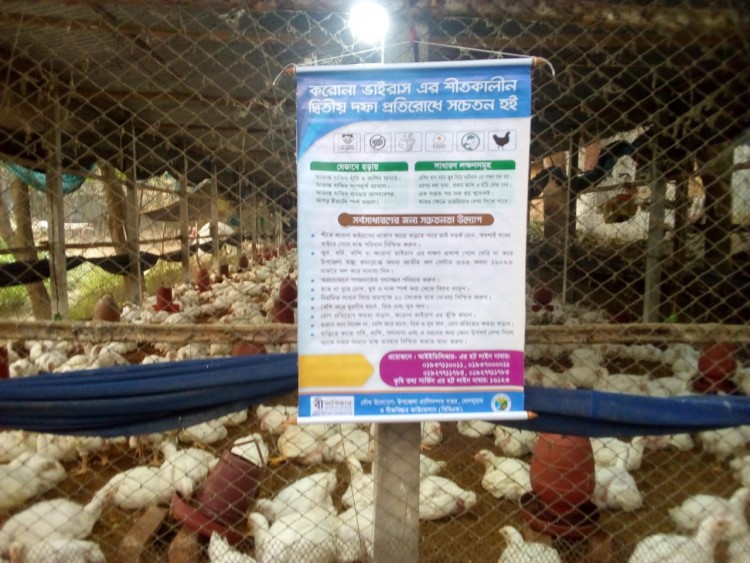 In the Corona virus situation the poultry farmers were facing difficulties about the farm management and marketing of their products. For support of the farmers, two discussions meetings were organized jointly by BBF and DLS on safe farm management in Covid-19 situation. Total of 27 participants including Upazila Livestock Officer, Upazila Sanitary Inspector on behalf of Upazila Health Department, Representatives of Market Committee, Farmers, Dealers, and Poultry Vendors were present in the event
Safe poultry farm management, regular cleaning of poultry equipment, non-use of antibiotics without veterinarians advice, renewal of feed dealers' licenses, immediate burial in case of bird flu, need to eat safe meat to deal with corona were discussed in the event.
As outcome of the event poultry farmers have been getting official vaccinations from the Livestock Department, farm registration is increasing, new entrepreneurs are coming to set up new farms, liaison have been increasing in case of any problem on the farm, relationship with farmers, dealers and livestock has been strengthened. The Upazila Sanitary Inspector sought special cooperation from the shopkeepers and the market committee in conducting business while maintaining social distance and cleaning Market and public places.
The multi stakeholder engagement and collective action have been strengthening and improving transparency and accountability in poultry sector in order to ensure safer poultry in market.
---
Click Here To Print
---
---
Comments Must Be Less Than 5000 Charachter