Md. Nurul Islam Live Bird Market (LBM) seller Developed waste disposal pit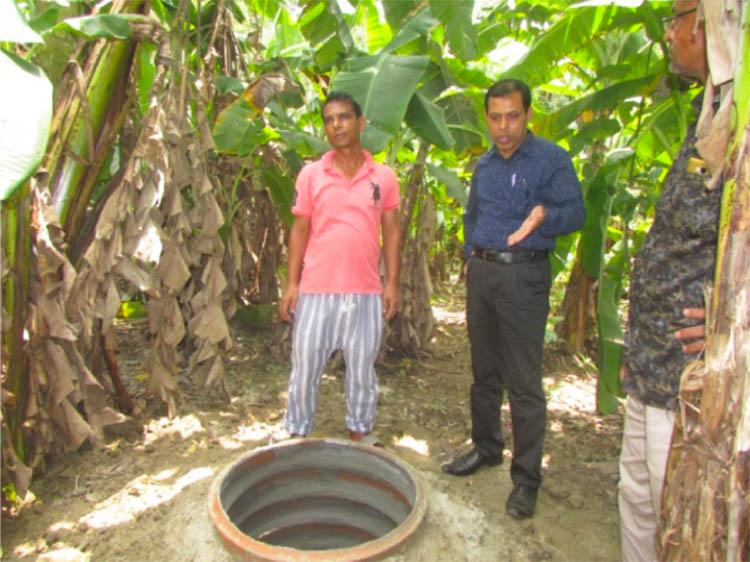 Elasin Bazar of Delduar upazila has a big Live Bird Market (LBM) where 11 LBM sellers continued business from many years. Overall environment of Elasin Bazar was not so good as like as other LBM before the start of Food Safety (FS) project by Beez Bistar Foundation (BBF). Under this project monthly joint monitoring visit in LBM along with monthly consulting meeting with LBM sellers have been conducted from 2018. Now the scenario of LBM has been changing day by day as joint monitoring visit and CC members are continuously motivating LBM sellers to adopt good personal hygiene and good slaughter practices.
LBM seller Md. Nurul Islam said that hehad started business from five years ago in Elasin Bazar but he never experienced joint monitoring visit that he has been observing from last year. As LBM environment in Elasin bazar is not so good, joint monitoring team along with CC members requested all sellers to participate the monthly meetings organized by BBF under FS project. Md. Nurul participated many meetings and discussions and wasinspired to adopt trained knowledge by adopting good personal hygiene and good slaughter practice in his LBM shop. Last month he visited Pathrail Bazar of Delduar to see the LBM waste disposal pit made by Pathrail Bazar market committee through technical supervision of upazila livestock office along with BBF. After seeing the LBM waste disposal pit he planned to develop the same in his shop and started savingsmoney for that. In the month of Ramadan Nurul made separate space for poultry slaughter and poultry storage with gruel so that live poultry have no scope to take blood and offal of slaughtered poultry. Nurul also made a waste pit by his own financial initiative through the inspiration from CC member and last joint monitoring team'sadvice. Nurul uses gloves and mask during slaughter process and clean his shop daily. Now more customers have been taking poultry from Nurul's shop due to cleanliness of LBM shop that inspire and motivate his neighbor sellers to do the same.
---
Click Here To Print
---
---
Comments Must Be Less Than 5000 Charachter