Safe poultry enriching pregnant vulnerable mother nutrition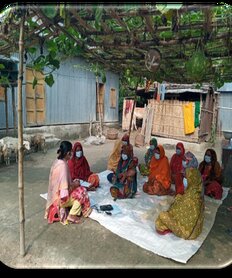 Model poultry farmers of Beez Bistar Foundation (BBF) have been producing safe poultry in collaboration with Department of Livestock Services (DLS). In Delduar Upazila and the Sadar Upazila of Tangail district there are 98 model poultry farmers. They are producing safe poultry meat and eggs maintaining bio safety measures that they have trained on it with the BBF Food Safety project. During this period the women model poultry farmers in Delduar and Sadar Tangail have series of meetings with pregnant mother and lactating mother in the BBF project areas. In addition the Model Poultry farmers have developed linkage with the Common Understanding Group (CIG) of National Agricultural Technology Programme (NATP) of DLS. In the meetings they have discussed different issues related to women empowerment and nutrition aspects. The meetings have been also participated by the member of Upazila Consumer Committee (UCC) of the Food Safety Project. As Civil Society Organization the UCC representative playing their active role for communicating and developing relationship among multi stakeholders including Pregnant Mother, Lactating Mother, DLS, and Model Poultry Farmers and related other stakeholders.
This multi stakeholder engagement playing positive role in regard to getting support from the government. Local government, model poultry farmers for enriching their food intake, nutrition and related other support. The pregnant and lactating mother have now very good relationship with model poultry farmers. They are taking safe poultry and eggs from the model poultry farmers with the reasonable prices. These safe poultry meat and eggs enriching the nutrition of pregnant mother and lactating mothers. At the same time they are also getting support in collaboration with UCC representatives from the government and local government institutions that helping for their livelihood improvement.
---
Click Here To Print
---
---
Comments Must Be Less Than 5000 Charachter