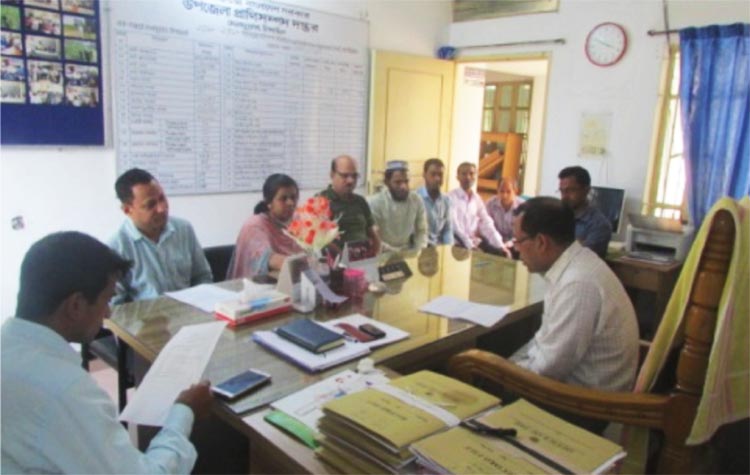 Monthly consultation meeting with local livestock officials were held on 19th March 2019 in Upazila Livestock Office (ULO) meeting room Delduar, Tangail. The purpose of the meeting was to discuss the registration and license issues for farmer and dealers along with follow up of last meeting decision and planning for next month consultation meeting. A total of 18 participants attended the meeting where Department of Livestock Services (DLS) officials were 8 along with Upazila Livestock Officer (ULO) and Veterinary Surgeon (VS) of Delduar, Tangail. There were 2 poultry farmers, 3 dealers, 2 Live Bird Market (LBM) sellers, including 03 BBF staffs were present. The meeting was moderated by BBF field coordinatorMdRobiul Islam Chunnu. The meeting was chaired by Dr. HabiburRahman,ULO,Delduar.
Dr. Habibur Rahman ULO said that everyday more than 20 farmers visited DLS to seek the technical service from his office and accordingly advice was provided for thembut due to shortage of manpower it is not possible to visit poultry farmers regularly. He said that by the Consumers Committee (CC) and market committee collaboration we developed a very cost effective waste management system in south Delduar Live Bird Market (LBM) that may be replicated in other poultry farms also. The poultry farmers should be united and other sector will work in collaboration to ensure food safety. Poultry is now emerging as an industry. Thousands of people have found their employment in poultry industry. According to the "Fish Feed and Animal Feed Act 2010" and Animal Feed rules 2013 all the poultry farmers should be registered and the dealers should be licensed with the DLS for their proper functioning in the system. There should be no use of antibiotics and drugs without the prescription of a registered veterinary doctor. With a view to ensuring food safety in poultry sector, the poultry farmers, dealers, middlemen and DLS have to work in collaboration.
Mohammad Rafique, poultry farmer: I try to maintain clean environment in my poultry farm. Naphthalene powder is applied after cleaning the floor. I also apply bleaching powder once in a month. I do not apply antibiotics without disease outbreak.
Mohammad Abdul Malek, poultry farmer: The biggest challenge in poultry production is uncontrolled market price for feed, Day Old Chick (DOC)and live poultry. We do not have profit in poultry production because of the high cost of feed. There is another problem of the quality of feed. We have to pay extra sum of Taka 200-300 more per bag than what is written on the body of the bag.
Mohammad LalMiah, Dealer: The price of feed is high. The company agents refer to vat for high price of feed. There was a proposal for vat exemption on poultry feed in 2016, but that did not have effect.
Results of the event: Joint monitoring helpedfarmers, dealers and LBM actors to run their business in line with rules and act. Cleanliness has been increased in farm level and LBM due to joint monitoring. Poultry farm monitoring has increased. Interaction among the stakeholders has increasedespecially with DLS officials as regular consultation meeting. The poultry farmers have started registration and dealer started license process. The use of antibiotic has reduced in the farm and farmers seeking veterinary supervision from DLS than previous to BBF program activities. Antibiotics has been used following withdrawal period as regular meeting is going with poultry farmers and dealers
---
For Print Click Here
---
Comments Must Be Less Than 5000 Charachter