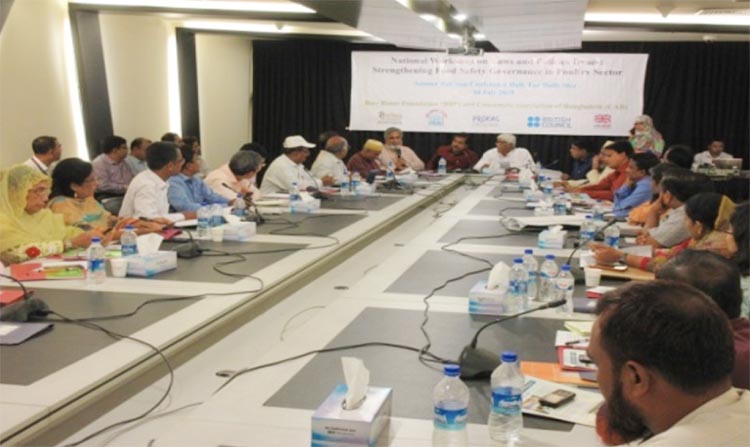 Daylong Workshop on "Laws and Policies Issues: Strengthening Food Safety Governance in poultry sector" was held on 10th July 2019 in Azimur Rahman Conference Hall of The Daily Star, 64-65, Kazi Nazrul Islam Avenue, Dhaka-1215. The workshop was organized by BeezBistar Foundation and Supported by PROKAS British Council. There were 58 participants in in the meeting from Government, Civil Society Organizations, Private Sectors, Research Organizations, Journalist, Food Safety Partners and Promoting Knowledge for Accountable System (PROKAS).
Dr. Hiresh Ranjan Bhowmik, Director General, Department of Livestock Services (DLS) was present as a the Chief Guest. Dr. M. A Sobhan, President, BeezBistar Foundation (BBF), chaired the Workshop. Dr. A Atiq Rahman, Executive Director, Bangladesh Center for Advanced Studies (BCAS), Mr. Shyamal Kanti Ghosh, Adviser, Bangladesh Poultry Industries Central Council ( BPICC), Mr. Monjur Shahriar, Deputy Director, Dhaka Division, Directorate of National Consumer Rights Protection (DNCRP), Prof. Dr. Md. Abdul Alim, Member, Bangladesh Food Safety Authority (BFSA), Md Abu Luthfe Fazle Rahim Khan, Managing Director, Jahrul Islam Companies & Senior Vice President, Feed Industries Association Bangladesh (FIAB) were present as special guests on the occasion.
The objective of the workshop was to strengthen food safety governance with the participatory engagement and collective action of government, private sector and Civil Society Organixations(CSOs) that contribute to system change and better enforcement of laws, policies for regulation in relation to improving transparency and accountability of food safety.
There were five presentations presented in the workshop from DLS, Bangladesh Food Safety Authority (BFSA), DNCRP, Feed Industry and BBF on food safety initiative, challenges and future plan by the respective presenters. Open discussion was held on presentation where the participants shared their views on presented matters. In the evening session, all participants along with chair of session discussed possible recommendation to address the multi-stakeholder involvement and their collective action to strengthen food safety governance through group discussion.
The workshop Recommendations and Suggestions:
The concept in relation to demonstration of model for safe poultry production may develop and will be replicated in broader areas within the government system
DLS is interested to develop web page in line with digitalization of all license, registration and renew process in collaboration with BBF that will be further linked with digital apps
Regular awareness and motivational program should be continued through respective multi stakeholder engagement and collective action to increase the skill of relevant actors regarding good practices on food safety
More awareness and communication materials on food safety: leaflet, festoon, poster, booklet, billboard etc. should be prepared and disseminated among all actors of poultry value chain as lack of awareness is the major challenge to ensure food safety
Enforcement of food safety Laws and policies should be continued to strengthen public education and enrich implementation of respective laws and policies to stop unethical poultry business along the chain
Proper documentation system: daily record keeping book, monitoring and inspection checklist, laboratory test result for traceability should be prepared and used in the field accordingly to enhance food safety governance
Inclusion of Directorate General of Drug Administration( DGDA), Bangladesh Standard and Testing Institution( BSTI), Bangladesh Livestock Research Institute(BLRI), Customs, Laboratory , research organizations, academic institutions for collective action and need to coordinate and collaborate to ensure food safety governance in poultry sector
Conduct similar workshop in district level by inclusion of Private sector, CSOs, media and different government department to exchange necessary information about food safety governance and regulation.
More collaboration and cooperation within CSOs, private sector along with government to address the challenges in poultry feed mills registration, monitoring , inspection and sample process
Strong coordination among Government and other identified public and private sectors to enhance multi stakeholder engagement for open and enabling information flow on Food Safety Act and its regulation
CSOs, private sector engaged with government to address the collection and sending of poultry feed sample for regular monitoring and inspection purpose of feed mills through formation of joint venture committee and standard protocol/checklist
Joint monitoring effort by DLS, DNCRP, BFSA, local administration, along with CC and CSOs to identify unlicensed Poultry mill, poultry feed dealers and sellers, and support the digital license and renewed process for avoiding lengthy process.
CSOs, private sector, media, and local consumers groups with the government to improve government market monitoring and oversight mechanism
To establish a Poultry Board to monitor market price
Enhancing coordination to all govt. agencies
Public- private partnership:
Laboratory accreditation, training etc.
Civil society, development agency
Training field staffs in implementing act and rules
Assurance of good quality raw materials cost effectively
Record keeping practices in the feed mills and farms
Regular supervision by contact dealers
---
For Print Click Here
---
Comments Must Be Less Than 5000 Charachter