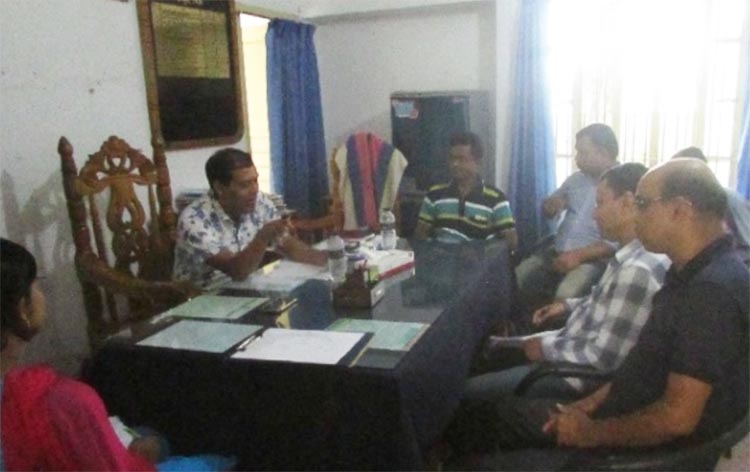 A Monthly Consultative Meeting with Department of Livestock Services and representatives of poultry sector was held on 30th August 2018 at Upazila Livestock Office Meeting Room in Delduar, Tangail. In this meeting 18 participants (1=Female, 17=Male) were present from poultry farmers, feed dealers, live-bird sellers, project staff along with upazila livestock office field staff where Upazila Livestock officer Dr. Mohammad Habibur Rahman was present as chair.
Meeting was started with a follow-up feedback on last meeting activities by Mr. Robiul Islam Chunnu, Project Coordinator, Beez Bistar Foundation (BBF) as:
The members of Consumer Committee are working at different villages and Bazaar to discuss with poultry farmers, dealers to make them aware about "Food Safety" and "Fish Feed and Animal Feed Act 2010"
The live-bird sellers are now more aware to maintain cleanliness & hygiene. They do change the water required for dressing
Poultry farmers are not using antibiotic, unless the birds are sick
Poultry farmers are maintaining cleanliness, the dealers are also cleaning their feed store on regular-basis
Poultry farmers are communicating with Livestock office when they do need
In some cases poultry farmers are rearing poultry without antibiotics
Some Dealers and Farmers are agreed for getting license and farm registration
In the meeting poultry farmers shared their problems including high price of feed and Day Old Chick (DOC), unavailability of quality feed and DOC and they requested Upazila Livstock Officer (ULO) to provide free vaccination and technical support for financially week farmers.
Dr. Habibur Rahman, Upazila Livestock Officer, Delduar expressed his satisfaction that the entire process for food safety and establishing good governance in poultry sector is working well. Issue Based Partner (IBP) projectapproach was very participatory and simple from starting to date. The Consumer Committee membersactively monitor all activities that support DLS extension services. He mentioned that according to Animal Feed Rules 2013 all poultry farmers and dealers need to register their business for their safety assurance and DLS will provide necessary assistance for this. He also remind all poultry farmers that every farmers should follow the standard biosecurity plans to run their farms as environment friendly. ULO assured the stakeholders that free technical service and vaccination will be provided on need based way but farmers need to pay for in-house farm visit for some instances and livestock official of Delduar will continue their assistance for the establishment of good governance in this sector. He concluded the meeting and provided vote of thanks to all participants along with the organizer for this need based approach.
---
For Print Click Here
---
Comments Must Be Less Than 5000 Charachter