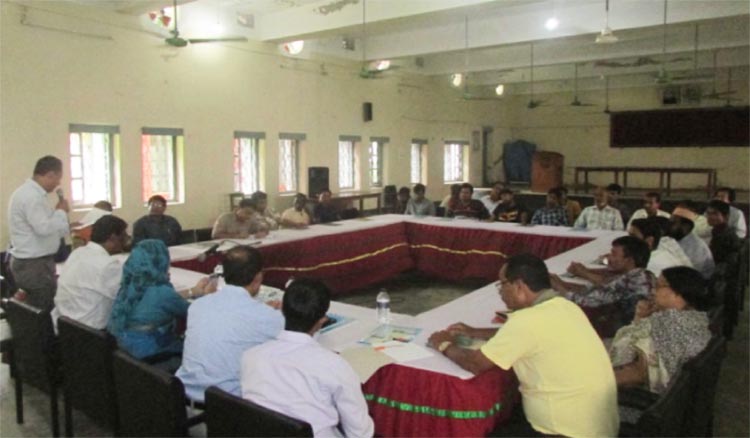 A Multi Stakeholder consultation workshop on food safety governance in poultry sector was held in Upazilla Parishad Auditorium, Delduar,Tangail on August 29, 2018 under the chair ship of Upazila Chairman Where Upazila Nirbahi officer was present as chief guest. There were 36 participants (34 Male and 2 female) from Upazila administration, local government, local livestock officials, representative of consumer committee, local NGO, poultry farmers, poultry input dealer (feed, chicks and drug seller and poultry business & processors). The workshop agenda were initiatives to strengthen food safety governance in poultry sector in line with Animal and Fish Feed Act 2010 along with Animal Feed Rules 2013 by multi-stakes collaboration and coordination.
In this workshop Mr. Robiul Islam Chunnu, coordinator Beez Bistar Foundation (BBF) provided welcome remarks with challenges of food safety in poultry sector. He mentioned that the main challenge of food safety in poultry sector especially in poultry feed is lack of accountability and transparency among the stakes for the implementation of relevant act and rules. He also mentioned that despite the challenges BBF is working to strengthen the collaboration within different stakes from 2016 to date in three Upazila as pilot trial by the financial assistance from Promoting Knowledge for Accountable System (PROKAS), British Council.
The main challenges of food safety in the poultry sectorsbriefed by the audienceare: unregistered poultry farmers and unlicensed input dealers,business syndicate in Live Bird Market (LBM), improper monitoring by Department of Livestock Services (DLS) with limited manpower, credit based business from farm to table in poultry value chain, overuse of medicine specially antibiotics, unavailability of safe inputs (Feed, DOC, Medicine) along with uncontrolled market price.
All participants provided their remarks to mitigate the mentioned challenge through an hour based group work as: declaration of brand inputs (Feed, Day Old Chick, Medicine) by respective departments, supervision of local DLS to encourage farmers and dealer for the registration procedures, Veterinary supervision on medicine used by farmers/dealers, facilitate bank credit for dealer and farmers, trained farmers and dealers on good agriculture practices along with good record keeping system.
As concerned department Dr. Habibur Rahaman, Upazila Livestock officer referred that Ministry of Fish and Livestock (MOFL) has been trying best for the mitigation of food safety challenges along the poultry value chain and for this DLS started mobile court investigation in input dealer and medicine shop that will be started in other tires soon. He also said that local DLS officials are always ready to serve poultry farmers at any times but farmers need to seek advice only from the registered veterinarian for doing prescription of their sick birds.
As chief guest Ms. Munmun Zahan Liza, Upazila Nirbahi Officer, Delduar, Tangail requested all poultry farmers and dealer to follow the registration process of their business that is prerequisite for them. She also reminded all participants that to ensure food safety, all concerned departments and authority should work together that initiative has been taken by BBF by starting of this needful workshop.
As Chair of the workshop S M Ferdous Ahmed, Upazila Chairman, Delduar, Tangail provided thanks to all participants and organizer to proceed this timekeeping agenda that should continue to raise the voice for safe food initiatives among the stakes as closing remarks of the workshop.
---
For Print Click Here
---
Comments Must Be Less Than 5000 Charachter