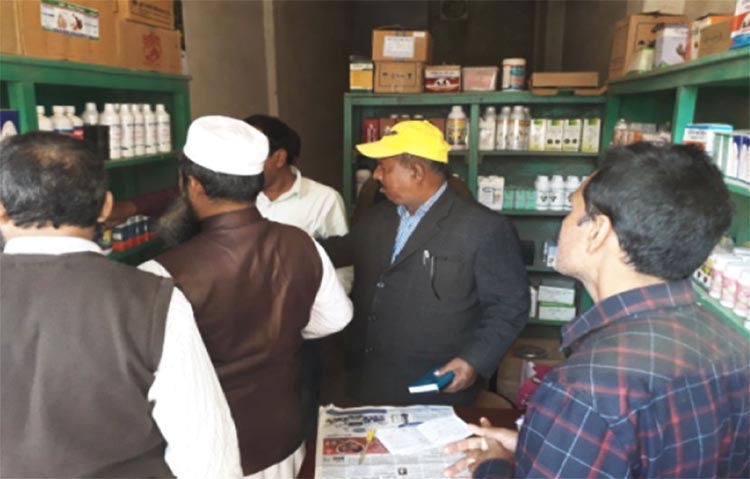 Under the Issue Based Project (IBP) on Food Safety Governance in Poultry Sector, there were three monthly joint monitoring visits conducted in Tangail Sadar, Delduar of Tangail and Kumarkhali Upazila of Kusthia in March 2019. The joint monitoring visits were conducted under the leadership of local livestock officials in association with representative of Consumers Committee (CC) and BeezBistar Foundation (BBF) staffs. In this events poultry farms, feed dealers shops, medicine shops and Live Bird Market (LBM) shops were visited to checkup the food safety practices followed by poultry farmers, feed dealers and LBM actors.
The purpose of joint monitoring visit included:
To monitor the poultry farms and feed dealers and LBM actors whether they follow the feed rules and act properly.
To encourage the unregistered and unlicensed farmers and dealers in line to include them on registration and licensing procedures
To ban the adulterated poultry feed sale and to check the medicine specially antibiotics of expired list
To brand the poultry feed and to inform the farmers and dealer to purchase and sale only registered poultry feed.
Results of joint monitoring:
Strengthen the liaison with local DLS officials, poultry farmers, feed dealers as well as LBM actorsas actors are getting technical assistance from DLS.
Multi stakeholder's engagements and collective action have created awareness among farmers, dealers and LBM actors to ensure food safety governance.
Awareness has been created in terms of antibiotics use and its consequences.
Market monitoring has been accepted from all stakes.
---
For Print Click Here
---
Comments Must Be Less Than 5000 Charachter