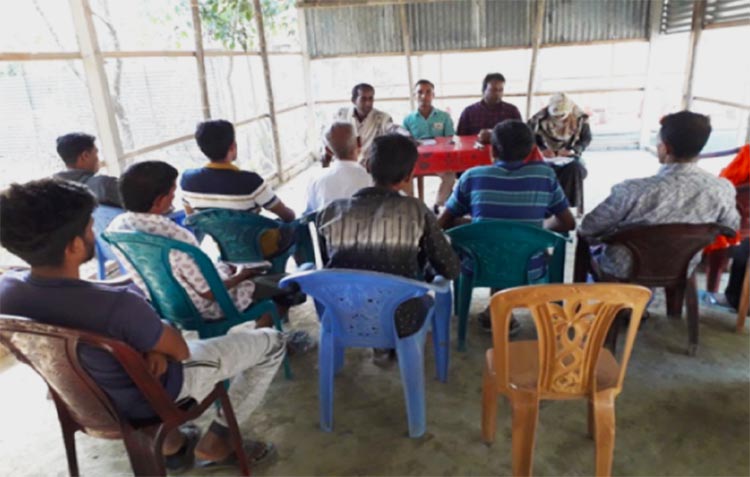 Meeting with poultry farmers was held on 13th March 2019 at Kandua Porabari in Tangail Sadar where 19 participants attended. In the meetings 15 poultry farmers attended where 06 were female. This meeting was organized to identify the areas of positive actions of the poultry farmers with the Department of Livestock Services (DLS) and follow up registration of poultry farmers and licensing of dealers. Among participants there were 13 farmers who owned farm and two of them worked as labor. Five of them had knowledge about farm registration and all of them participated as first time in Beez Bistar Foundation (BBF) programme. Out of 15 poultry farmers,10 farmers had idea about registered poultry feed. The common feed brand names available in the locality included A One, Kazi, Aftab, Suguna, Nourish, Quality, etc. Three farmers used medicine based on need where other farmers were dependent on the dealers.
On Issue based discussion DLS officials discussed about the mitigation measures during high temperature in poultry farms. Important session was taken on good farm management practices for safe poultry production. Farm registration process for farmer as per Animal and Fish Feed act and rules were also discussed in the meetings. In the meetings Code of Practice (COP) of safe broiler farming to reduce biological and chemical hazards was also briefed;
Follow good biosecurity and protect the farms by separation
Use safe water, feed and medicine in poultry farms
Follow good farm management practices and use proper vaccination schedules
Maintain good personal hygiene practices during work in poultry farm
Proper waste management system should be followed
Use safe and clean water in poultry farm
Antibiotics should be used under veterinary supervisions
Farmers said that they generally maintain farm register for documenting expenditure and income. They also keep record of feed and medicine purchased from the companies. The amount of sale proceed is also recorded on the register. Due to monthly meeting with poultry farmers they are motivatedfor registration and dealers for licensing in progress. Strong advocacy needed for poultry farmers, feed dealers and LBM actors for implementation of Fish Feed and Animal Feed Act 2010. Strengthen relationof farmerswith the stakeholders of poultry sector especially with the Department of Livestock Services (DLS).
---
For Print Click Here
---
Comments Must Be Less Than 5000 Charachter