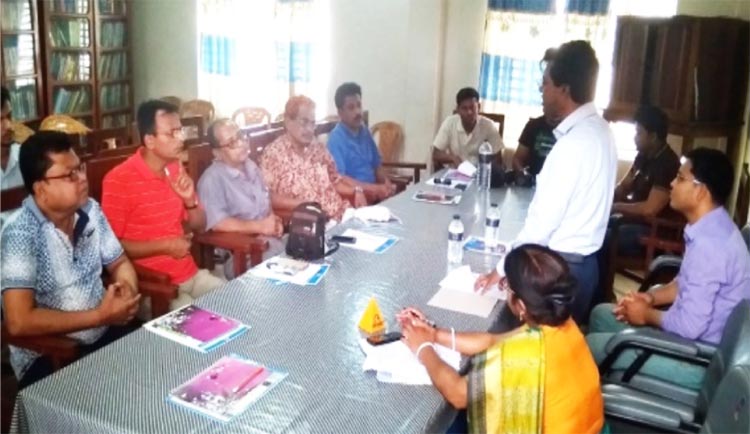 Meeting with respective government authorities, feed producers, and drug producers to strengthen food safety governance in poultry sectors was held on 30th June 2019 in Beez Bistar Foundation (BBF) office meeting room at Mohammadpur, Dhaka. There were 16 participants inthe meeting from Department of Livestock Services (DLS), poultry feed industries, drug producers, Promoting Knowledge for Accountable System (PROKAS), British Council along with Civil Society organizations (CSOs) representatives. The meeting was chaired By Dr. Sk. Azizur Rahman, Director Extension, Departmentof Livestock Services (DLS). Dr. M. A. Sobhan, President, Beez Bistar Foundation (BBF)offered the welcome speech to all of the participants.
Dr. Taslima Akhter, Consultant, BBF
The meeting was moderated by Dr. Taslima Akhter, Consultant, BBF beginning with the introduction of the participants. She briefed about the objective of the meeting that multi stakeholder engagement and their collective actions in relation to strengthening food safety governance in poultry sector.
Jahangir Alam Jony, General Secretary, BBF
Jahangir Alam Jony shared the achievements and way forward on Issue Based Project (IBP) food safety governance in poultry sector. He said that the project tried to support multi stakeholders engagement for system change for strengthening safe poultry feed in the market through improving transparency and accountability.
Md. Malek, Managing Director, Fresh poultry feed (Mehgna Group of Co)
Md Malek gave some specific suggestions that may contribute for improving the food safety governance. He said, the Department of Livestock Services (DLS) should take initiative for routine feed sample testing of licensed feed mills that already has been practicing by the Department of Fisheries. He also mentioned that for checking the antibiotic, growth promoter and use of Meat and Bone Meal (MBM) in poultry feed mills should be strictly monitored by DLS. He informed in the meeting that DLS collected feed samples from his feed mills after three years interval whereas Department of Fisheries (DOF) collected the fish feed samples in monthly basis and shared their feedback from tested samples regularly. He requested Director Extension of DLS to initiate the Department of Fishery (DOF) monitoring system for applyingon inspection in poultry feed mills. It would be helpful to improve the transparency and accountability of poultry feed sector. Regarding bandingof Meat and Bone Mill (MBM) by DLS he shared his view that still MBM marketing is going within country that should be strictly monitoedr by DLS. Mr. Malek further mentioned that In Kalighat Bazar of Sylhet Sadar daily 50-60 MT low quality poultry feed has been marketing in the banner of licensed poultry feed. In this regard DLS should take the legislative measures to protect this type of unethical business for sake of poultry sector.
Md. Sarwar Alam, Manager, Quality Control, Aftab Bohumukhi Farms Limited
He shared theneed for quality control measures from raw materials to finish product. He said that Aftab feed mills have quality feed testing laboratory with equipped manpower and testing instrument where they routinely checked the proximate analysis along with heavy metals. He requested the meeting to acknowledge the feed mills those who are maintaining the quality and safety measures to produce good quality poultry feed as branding by DLS. He mentioned that the use of tannery waste in poultry feed is very low quantity that may be less than 1% of total poultry feed production. Recently there are lot of news published in print and electronic media on the use of tannery waste in poultry feed that is harmful for overall poultry feed industries. DLS should take necessary action and response in this regard.
Dr. Abdullah Al Mamun, Consultant ,Advance Animal Science Co.Ltd
He said that from 2019 they did not produce any antibiotics as they are importing essential oil that worked as preventive dose. He mentioned in the meeting that all licensed feed mills should have laboratory testing facility for proximate analysis as well as feed microbiological and chemical hazards that will help to brand the feed as safe. He requested DLS officials to enhance the monitoring system of all licensed feed in monthly basis. He asked feed industries personnel whether they maintain quality control during the time of transport and storage facility of poultry feed. Regarding this question all feed industries officials briefed that they have digital monitoring system in the point of loading, unloading and storage.
Dr. Hafizur Rahman, Manager Suguna feed
He said that their poultry feed is the top most one brand in India and in Bangladesh. They have very good reputation also. They produced 7000 MT feed/month where 1000 MT used for their contact farming system and remaining is distributed through dealer. He mentioned that they maintained dealer selection criteria to keep the standard quality from production to end user. They have product recall system also.
Dr. Sajal, Technical Expert, Animal Health Division,Incepta
He said that they produced different type of antibiotics and quality vaccine as a brand company. He mentioned that for the marketing of antibiotics Incepta clearly labeled user guidelines of each antibiotic with mentioning of withdrawalperiod. For vaccine transportation and marketing they followed proper cool chain system from production to transport. He also said that they conducted monthly awareness program with their area based poultry farmers and dealers on good practices on use of antibiotics and vaccines.
Shymal Chakma, Coordinator, PROKAS, British Council
Mr. Shyamal delivered thanks and gratitude to all participants for their active and fruitful participation in the meeting and provided special thanks to Director Extension, DLS for his presence within busy schedules. He said that PROKAS tried to address multi -stakeholder engagement and collective actions for system change to strengthen food safety governance. Regarding MBM, he asked feed industries officials to know the present status of MBM marketing within countrywhere Fresh Feed informed that still imported MBM storage is available among buyers who imported bulk stock. In this issue all are agreed that those who have valid license on MBM use they may buy and use MBM in their feed mill within county business as this declared by DLS also. He mentioned in the meeting that PROKAS initiated the IBP Food Safety (FS) project to develop integration within government, private and civil societies that seems tohave been achieved also within some limitation. He assured in the meeting that in coming days PROKAS will try to work on model demonstration along with address of Good Agricultural Practices (GAP) for the better implementation of respective rules and regulation to enhance governance system in food safety.
Dr. Md, Shahadat Hossain, Upazila Livestock Officer,Animal Health and Administration Division, DLS
Mr Shahdat said that DLS has been trying too hard to address allthe GAP what discussed in the meeting with the limited manpower. He shared that poultry industries expanded rapidly by last 5-8 years that's created burden for DLS to continue regular monitoring and law enforcement from production to field. In the field DLS have only two technical person at upazila level to look after the livestock population along with ongoing administrative work that is too burden for them. He informed in the meeting that DLS are planning to improve their service delivery system from HQ to field and will take some time to mitigate all the problems. He provided thanks to PROKAS and BBF to implement this governance project and appreciated the development of information packs along with very innovative digital apps that he already installed in his personal android mobile also. He mentioned in the meeting that by FAO supported project DLS demonstrated very good poultry value chain model in some areas that they referred as timely needed achievements within and outside country. He requested organizer to develop some model demonstration that will be helpful for DLS to replicate in broader aspect. He also requested PROKAS and BBF to support DLS regarding digital webpage development for the license and renew of feed industries in category one to four with that has done by DOF through BTCL. He also requested Md. Malek to submit a written letter on unethical poultry feed business of Khalighat, Sylhet issues and DLS will look after that accordingly.
Dr. Azizur Rahman, Director Extension, DLS
Dr Azizur Rahaman delivered his thanks to BBF and PROKAS to invite him in the meeting and appreciated to all participants for their active participation. He assured in the meeting that under his leadership DLS will soon start regular monitoring and inspection system of feed industries.As question raised by participants about delayed or not getting the feed sample testing report sent by DLS field officials. He said that this would not be happened usually as DLS feed testing laboratory has the priority to do and send the feed sample result asked from DLS field. He requested to inform him about submitted feed samples detail that will recheck for update status within short time. He agreed that DLS service delivery system has not extended in the same level of expansion of poultry industry as well as whole livestock population due to shortage of manpower. He mentioned in meeting that feed and drug industries along with CSO should extended their support to mitigate all discussed problem that partly assisting by BBF and PROKAS. He shared his view that the information packs and digital apps prepared by this project is very demand oriented initiatives and all actors in poultry value chain will get more access to know about the food safety initiative taken by Civil Society Organizations (CSOs) and respective government authorities. He also mentioned that DLS field officials and HQ are always appreciate and welcoming to any donor, private and CSOs to work in the livestock sectors and they are trying to assist them accordingly.
Dr. MA. Sobhan President BBF
Dr. M. A. Sobhan delivered his thanks and appreciation for the active participation of all participants within very short time notice of the meeting. He provided special thanks to Director Extension DLS due to his valuable suggestion and remarks in the meeting within his busy schedules. He mentioned in meeting that the present expansion of poultry sectors is never possible without the contribution of private sector that made this sector as valuable after the garments industries. He requested all participants to book their calendar for upcoming national workshop organized and supported by PROKAS on 10th July 2019 accordingly.
---
For Print Click Here
---
Comments Must Be Less Than 5000 Charachter