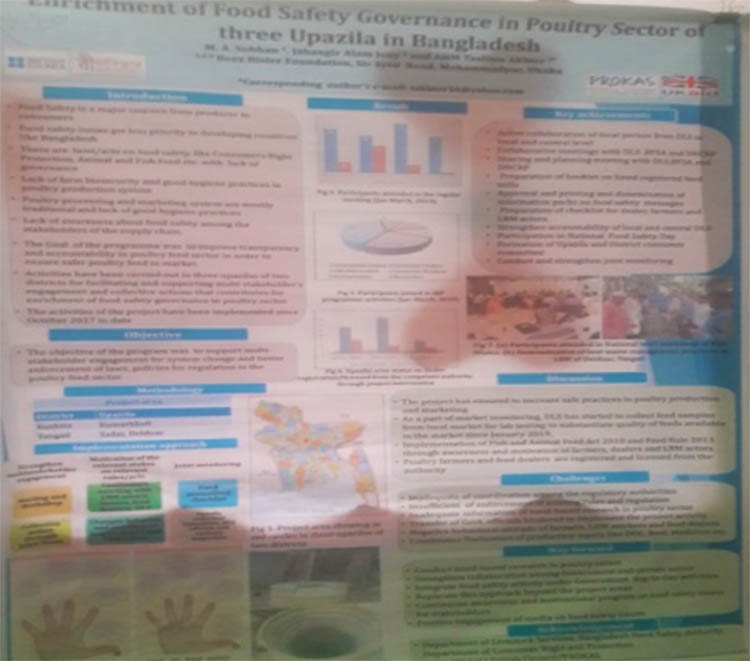 Bangladesh Society for Safe Food (BSSF) organized the 2nd National scientific conference on food safety and health on 30th March 2019 in the auditorium of Sher-e -Bangla Agriculture University, Dhaka. More than 100 scientists and researchers from different universities and research institutes including Beezbistar Foundation (BBF) participated on the conference. Mr. Shahabuddin Ahmed, Secretary, Ministry of Food and Mr. Muhammad Mahfuzul Hoque, Chairman, Bangladesh Safe Food Authority were present as chief guest and guest of Honour in the events. Professor Dr. Kamal Ahmed, Vice Chancellor, Sher-e -Bangla Agriculture University was present as special guest.
The conference was started at 9am following the registration of the participants. There were two sessions of this conference: Inaugural and Technical sessions. In the inaugural session welcome remark was provided by Professor K.H.M Nazmul Hossain Nazir Secretary, BSSF. Keynote paper with the title of "Ensuring Food Safety In Bangladesh: Challenges and Strategy was presented by Dr. Md. Iqbal Rouf Mamun, Professor, Department of Chemistry, University of Dhaka. There were two plenary sessions where 8 papers were presented on different food safety related research done by different university and research Institutes.
On the Conference there were 22 poster presented in poster presentation and evaluation sessions on the theme on food safety and health from different researchers. BBF presented a poster in the theme of "Enrichment of Food Safety Governance in Poultry Sector of three Upazila in Bangladesh" that was published as abstract in BSSF proceedings publication. BBF prepared the poster on their Issue Based Project (IBP) on food Safety Governance in Poultry Sector. BBF theme was the exceptional as this was the social studies instead of technical research that appreciated by evaluators. The conference was ended at 5:30 pm following the concluding remarks from Dr. Mohammad Rafiqul Islam president Bangladesh Society for Safe Food.
---
For Print Click Here
---
Comments Must Be Less Than 5000 Charachter