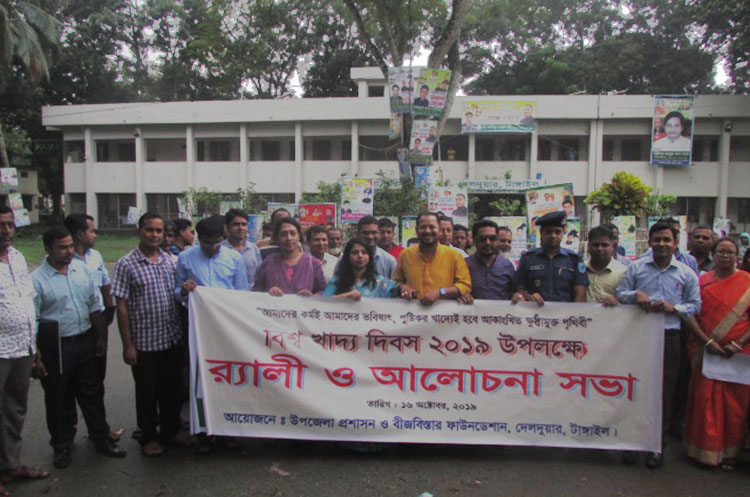 Deluar Upazila administration and BeezBistar Foundation (BBF) jointly celebrated the World Food Day on 16th October 2019. The theme of the day in this year is "আমাদের কর্মই আমাদের ভবিষ্যৎ, পুষ্টিকর খাদ্যেই হবে আকাংখিত ক্ষুধামুক্ত পৃথিবী". Rally and discussion was held on the occasion of the day in Upazilla Administration auditorium where Upazila Nirbahi Officer, Delduar was Chair and about 180 participants joined including local government officials from administration, livestock, agriculture, fisheries, health and local administration. On the occasion poultry farmers, feed dealers, agriculture farmers from eight villages of Deluder also joined and thy actively participated on open discussion.
Upazila Agriculture Officer Md. Shoeeb Mahmud delivered welcome remarks and mentioned that we have produced enough food for all but main challenges are to ensure safety of that food so that food will not cause any harm for human health. He mentioned that Antimicrobial Residue (AMR) is the burden challenge for whole agriculture as overuse of antibiotics. Upazila Agriculture and Livestock are jointly working with BBF to aware farmers on recommendation of antibiotic uses. Department of Agricultural Extension (DAE) is conducting Farmers' Field School (FFS) to aware and adoption of food safety code of practices and distributed different types of inputs among farmrs to motivate them on food safety practices.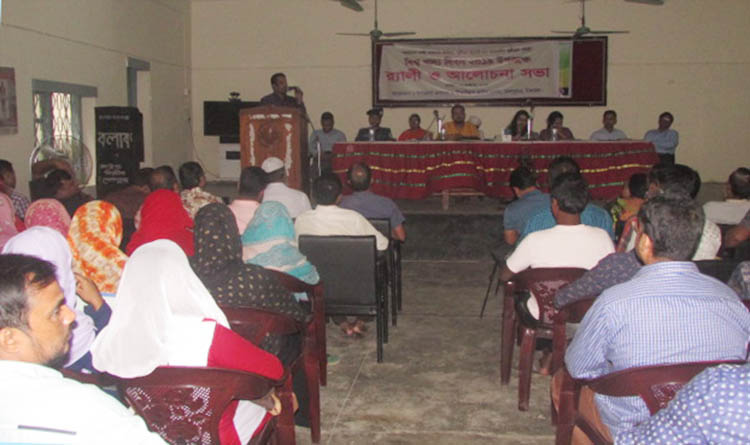 Upazila Veterinary Surgeon Dr. Mohammad Ali said that Livestock department has been working hard to produce safe poultry meat, milk and eggs though this is very challenging and we need to work in joint collaboration as public private partnership. BBF is working closely for the creation of multistakeholder platform as collective action to strengthen food safety governance. As collective action DLS, Upazila Sanitary Inspector, Market Committee along with Upozila Consumers Committee (UCC) have been conducting joint monitoring in Live Bird Market (LBM), feed dealer and poultry farm to aware themselves on food safety measures. General secretary of UCC shared the initiatives and events to aware of farmers,dealers and LBM actors and he mentioned how the scenario has changed regarding farm registration, feed dealer license and waste management system of LBM and farm. He mentioned that through World Bannk (WB) funded project LDDP we will be able to develop safe and model value chain for all livestock product. He also mentioned that by the assistance of BBF DLS Delduar have developed model poultry farmers, model LBM and model feed dealers by this time.
Upazila Nirbahi Officer Mahmuda Akter said in her closing speech that in 1945 FAO started the world Food Day Celebration that was recognized as worldwide in the same day. World food day celebration has been creating awareness among general public day by day. She mentioned that after liberation to date Bangladesh did tremendous improvements in the area of agriculture production including rice, meat and eggs. As developing country the main challenge of us is to ensure safety for all main foods to secure public health concern and to achieve that Bangladesh Government has declared Zero tolerenace for adulteration of food. Different donor agencies like Food and Agriculture Organization (FAO), World Food Program (WFP), World Health Organization (WHO) have assisted Bangladesh government to ensure food safety. In Delduar BBF has been working in the areas of food safety from long time and she mentioned that all kinds of support needed to ensure food safety governance will be provide from her department. She delivered thanks to BBF and PROKAS, British Councill to operate the program food safety governance that will enhance the transparency and accountability in near future. She provided thanks to all participants for their active and fruitful participation.
---
For Print Click Here
---
Comments Must Be Less Than 5000 Charachter