Panicked people are rarely leaving their homes due to the invisible corona virus. People do not want to leave their homes unless emergency needs or their livelihood options. The grocery and related food item shops, Live Bird Market, medicine shops are open as these are the daily needs for people livelihood and survival. People are coming to the market for buying their daily requirements. In markets, on the streets, in fish, meat, vegetables, shops and rickshaws, no one knows where the invisible corona virus is. So people are afraid to leave the house.
In order to improve this panic among the people, the Beezbistar Foundation (BBF) through IBP on Food Safety Governance in poultry sector project has started the spraying of disinfectant 3 times in the market, adjacent road and drainages of the markets and in the shops selling raw fish, meat and poultry in 8 live bird markets of Tangail Sadar upazila and 14 live bird markets in Delduar upazila and practice of sprayed with disinfectants activities has been are ongoing. Now live bird markets are becoming safer due to spraying with disinfectants and this initiative has been taken so that people who come to buy daily necessities in the markets are safer and secure from infected with Corona virus.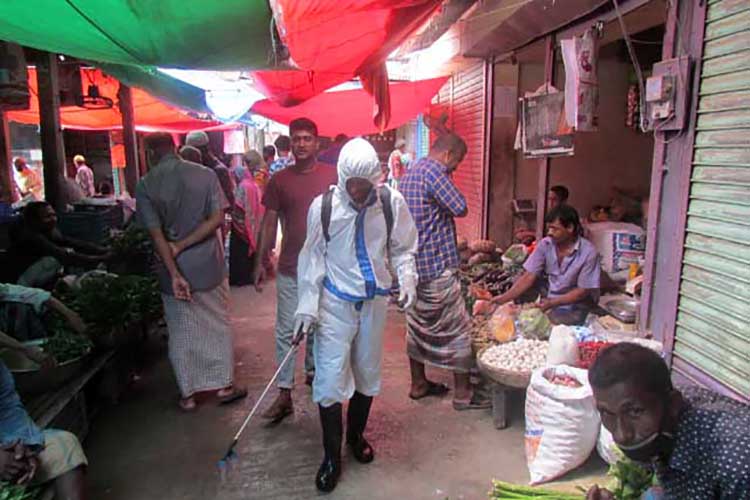 For this initiative, live bird markets actors, vegetable sellers and meat vendors are feeling safer to continue market and consumer that coming for daily necessary purchase can go home more hygienically and free of Corona virus infection. It was observed that in an average everyday 1200 peoples have been visiting each of market / bazar. By this way there were 32,400 peoples of 27 markets can go home more safely after marketing from live bird market. Consumer's satisfaction found when they ensure that these live bird markets are safer and secure from COVID19 transmission than other markets.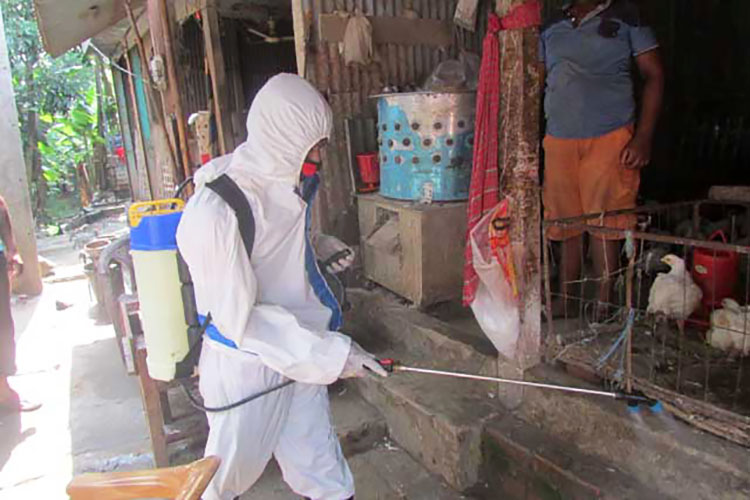 BBF relationship with local administrations, local government and the general public has been strengthened by doing these awareness and preventive measurement action during disasters.
The key immediate outcomes of spraying included:
There are 27 markets has been under regular inspection of disinfectant spraying where on in average 32,400 consumers, live bird market and adjacent raw vegetable, fish and meat vendor and actors have been benefited and more safely sales and purchasing product.
Consumer's satisfaction, positive attitude, mental and behavioral changes, feeling more secure to purchasing poultry product from these LBM.
All the stakeholders regards LBM have been made their solidarity and have been cooperate this activity of spraying disinfectant in LBM in this crisis period of COVID 19.
Interrelation, communication and linkage between all CSO's, Govt organizations, consumers and LBM actors have been getting more strong and they jointly cooperate in the action of disinfectant spraying in LBM.
---
For Print Click Here
---
Comments Must Be Less Than 5000 Charachter