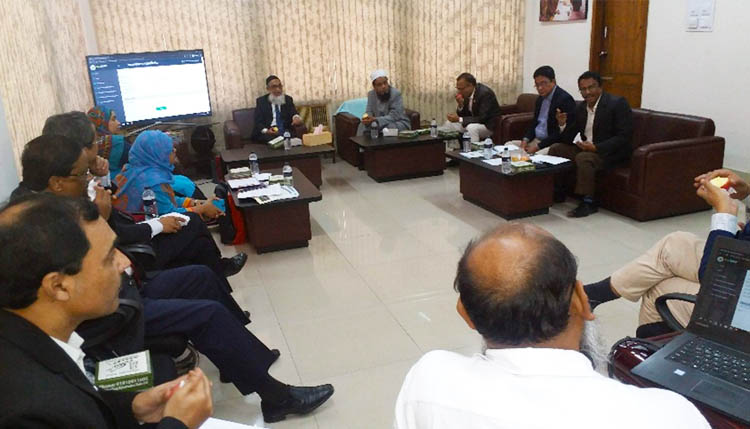 20th January 2020
Meeting minutes, DLS-BBF sharing meeting on, Digitalization of registration and licensing procedures in DLS through software development. 20th January 2020. Jointly Organized by: Department of Livestock Services (DLS), BeezBistar Foundation (BBF). Venue: Conference Room, DLS, Khamarbari, Dhaka.
Introduction:
Department of Livestock Services (DLS) and Beez Bistar Foundation (BBF) sharing meeting was conducted on 20th January 2020 on action of digitalization of registration and licensing procedures in DLS through software development. The important consultation was conducted on honorable DG room, DLS, Khamarbari, Dhaka. The meeting was jointly organized by DLS and BBF. There were 12 participants joined in meeting from DLS, 1 participants from PROKASH British Council and 4 participants from BBF.
Dr. Abdul Jabbar Sikder Honorable Director General, Department of Livestock Services (DLS) was present as the Chief Guest.
Dr. Lutfor Rahman, Director Extension, DLS, Dr A. K. M. Ataur Rahman, DD, Admin, DLS, Dr. Shaikh Azizur Rahman, Director Admin, DLS, Dr. Md. Abu Sufian, AD (Health), DLS, Dr. Md. Nurul Islam, Curator (N. Zoo), Dr. AHM Shahdat Hossain, ULO, DLS, Dr. S. M. Nazrul Islam, Director research (LRI), DR. Md. Shahidul Islam, Ex DG, DLS, Md. Shamim Hossain, ULO-ICT, DLS were present as an honorable guest.
Dr. ABM Khaleduzzman, AD-Farm, DLS, presented the key notes speech on behalf of the focal point of the IBP Food Safety project.
Dr. A.H.M Taslima Akhter, Manager, PROKASH British Council and Jahangir Alam Jony, General Secretary, BBF presented their valuable speech. Dr. Ambia Akhter, ULO, DLS and Dr. Farjana Haq, Project consultant, BBF were also present.
MD. Aminur Rahman, Arena Phone Bd, had elaborately explained the process and protocol of digital registration procedure for conceptual understanding and noted the system review in the meeting.
The objectives of the joint meeting were to strengthening and operationalize the digital software for registration and licensing of feed dealers and farmers online. To finding out the easy process of governance of digitalization of registration and licensing software.
Description:
At first Dr. Khaledujjaman assisted the program by a brief description of IBP food safety governance program which was sponsored by British Council in this aspect Beez Bistar Foundation (BBF), Consumers Associations of Bangladesh (CAB) and Department of Livestock Services (DLS)'s, jointly initiated this project have in 6 districts namely Tangail (Tangail sadar and Delduar), Kustia (Kumarkhali), Rangpur (Rangpur sadar), Rajshahi (Poba) and Chittagong (Pachlaish). In these 6 districts IBP good governance of food safety practice have been piloting with the help of BBF and CAB. He also said that "for implementation of rules in legal way we cannot go through root level, if we can say about category 1, 2, 3 of Livestock and fisheries laws, we gave category 1 and 2 from central level but in case of category 3 feed seller or dealer we cannot give this information and issues on the field level." There were around 95% feed dealers
underlicensing and 30% of the farmers completed their registration. Mobile apps have been established for all, by this apps anyone could get information both on net or off net about farm registration criteria, documentation, how to produce safe bird, safe Live Bird Market and also contain registered 213 feed mill information. Same way every day in those 6 upazilla 6000 farmer got 30 SMS on safe broiler production and management every day. The mobile apps also enriched with farm regulation information and easy protocol of registration process.
At the end Dr. Khaledujjaman requested Director General (DG) for digitalization and addition of manpower in this topic for making the digitalization process smoothly and Dr. Taslima, PROKASH, and British Council, to proceed next on for her important speech.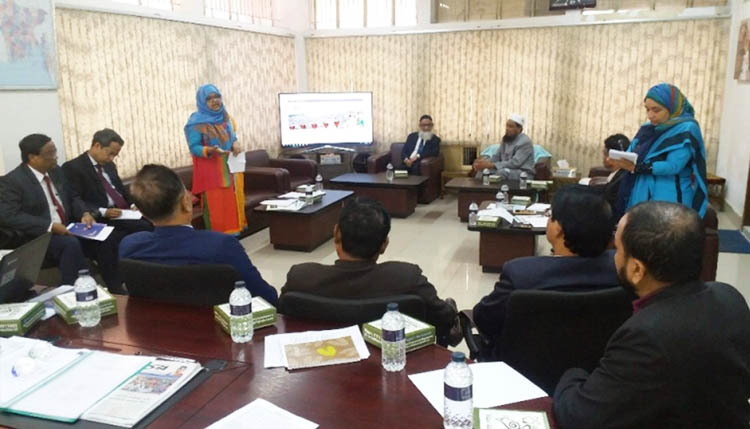 Dr. Taslima, welcom9ng DG of DLS, said that in her large experience in poultry sector she found; "it's a very important issue to make registration and licensing digitalization from manual process which will increase accountability of feed dealers and farmer's level. As digital software already installed in DLS software so it's time to go through operationalization and find the way to successfully operate the digital process of licensing and registration." After that she asked the software company to explain and elaborate the process of license and registration in brief to understand correctly the process and also the gap.
After that DD, DLS said that "There should be red color of pending email that will signal for work immediate and support DLS officers". He also said that "To do this job everyone need his/her mind set as awareness, then he could do it."
After that AD, DLS said that "we should go through time and cope with digitalization rather manual to save time and manpower, then we will get more success."
At the end of program honorable DG said as his last speech, that "Our farmers will be benefited, for any help will be ensured from DLS." Also said that "This issues will be included in the Sheba Shoptaho."
---
For Print Click Here
---
Comments Must Be Less Than 5000 Charachter