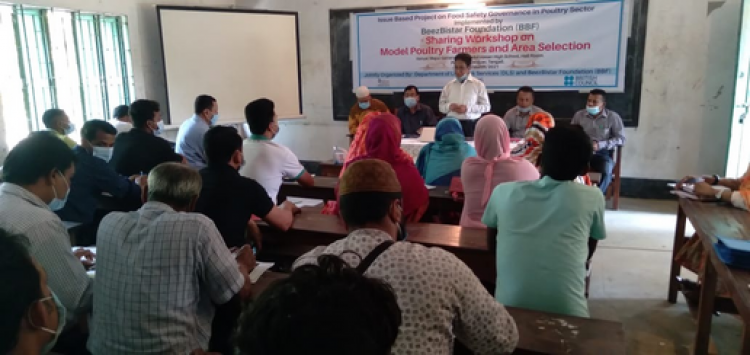 Model poultry farmers for safe poultry produce event was held at Delduar, Tangail on 25th March, 2021. The workshop was jointly organized by Department of Livestock Services (DLS) and Beez Bistar Foundation (BBF). There were about 47 participants participated in the meeting from DLS, Department of Health, Local Government Institution, Poultry farmer, Live Bird Market, feed dealer and CSOs representatives.
The welcoming address was given by Rabiul Islam Chunnu, Field Coordinator, BBF, Delduar. Then an overview on Model farmer selection and IBP Food Safety achievements had been presented by Jahangir Alam Jony, General Secretary, BBF. Dr. Enayet Karim, ULO, Delduar presented his valuable speech in relation to criteria selection and development of model poultry farmers.
Jahangir Alam Jony mentioned that there were 20 model farmers each of Pathrail and Atia Union of Delduar Upazila have been selected. Before selection of model farmers there were discussion with DLS and LGI for the criterial of model farmers' selection. Accordingly the model farmers have been selected form the respective unions.
Dr. Enayet Karim, ULO, Delduar said, the criteria's for model poultry farmers selection are very important. For model poultry farmers we have to consider at least 3 years running experience on poultry rearing with 6 months continuation of poultry rearing cycle; good working relationship with DLS, BBF and LGI; maintaining biosecurity including personnel hygiene, withdrawal period of antibiotic, good farm structure and have good waste management.
The key outcome of the meeting included:
DLS, LGI, BBF and UCC have been working together for finalization of model poultry farmers based on selection criteria.
There will be regular joint follow up and monitoring for development of model poultry farmers poultry rearing and related practices.
The farm practices record should be kept in poultry farmers' information book based on follow up visit by DLS.
A certification system at local level will be develop led by DLS for model poultry farmers' farm practices and value chain.
Women model poultry farmers will be prioritized as entrepreneur of poultry sector.
The DOC will be collect form the reliable sources for maintaining quality
The feed should be use form licensed feed mills authorized by DLS.
Department of Health will have regular follow up and monitoring specially in LBM
DLS, LGI and BBF will working together for formalization of broiler poultry farmers association belonging 20 – 25 farmers in each of union. DLS with project will support the poultry farmers group / association for establishment of mini feed mill at union level.
DLS will have provision to support this poultry farmers group for providing working capital support with 4% interest from the DLS project.
DLS and BBF will working together for smooth and more registration for poultry farmers and licensing of feed dealers. Before issuing certification the model poultry farmers will have registration.
The LDDP and NATP further support will be prioritized for model poultry farmers along with 6 months continuation of poultry rearing cycle.
The outcome of this meeting agreed by the audience to working together for developing model poultry farmer.
At the end of the program a closing speech was given by Md. Abdullah, General Secretary, and UCC. He said the decision made in the meeting was very much practical and will contribute to strengthening the model poultry farmers and developing a model role for enriching poultry sector. The UCC will be always with any initiative of poultry sector governance in the poultry sector.
---
For Print Click Here
---
Comments Must Be Less Than 5000 Charachter