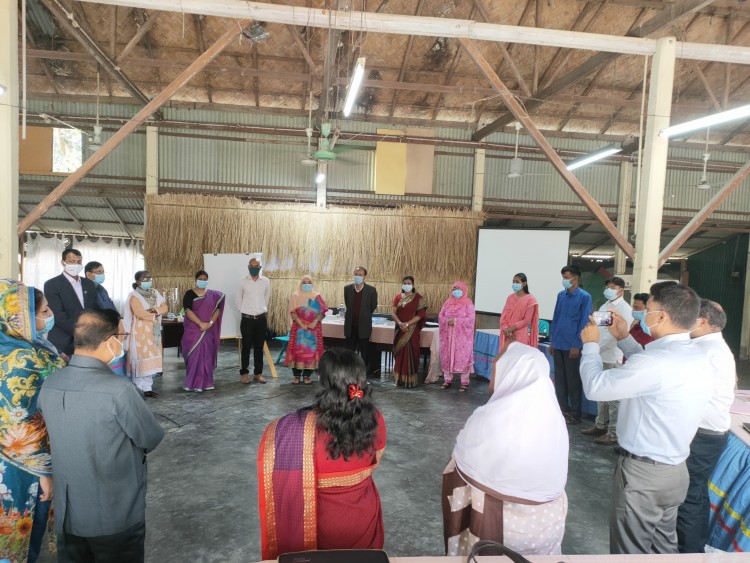 A two days long training program on the gender and gender based violence was held on 27-28 February 2021 at the conference room of BeezBistar foundation (BBF) in Tangail district. The training program was jointly organized by BBF and CAB with the technical and financial support of Prokash- British Council, Bangladesh. Mrs. Tahmina, national GBV trainer, was the main trainer, focal person and facilitator of the 2 days training. The Programme coordinators, field coordinators, Field officers of BBF and CAB were present as trainees of the courses. Also IBP Coordinator Md. Nurul Islam Biplob was present from PROKAS team. A total of 22 participants with 13 males and 9 females were present in the 2 days training programme.
The main agenda of the two days training course was to sensitize and responsive the participants about gender issues and also gender based violence issues.
Different methods were used by the focal person of the training course to make the course more attractive, easily understandable and effective. The methods included game, brain storming, poster showing, large and small group discussion, tri noyon practice, Role play, simulation, video presentation, discussion, question answer etc.
At first the introductory activities including the registration, welcome speech, and ice-breakings session was conducted. The norms of the training were shared before starting the main session. Then diversity of human mapping and discrimination was presented through brain storming and poster showing. Human Rights and its principle and position and condition of men &women in enjoyment and practice of Human Rights related session was conducted through large group discussion. Then the Man and Women as Natural and social Aspect was presented through tri noyon practice and discussion. Myth, law, religion, custom as the Process of Socialization & using technique was presented through Sharing in a large group and Small group. Role play was conducted for Effect of socialization process related session. Gender Division of labor including productive, reproductive, community management and Constituency management, and access and power including information, resource and decision making related session was conducted to make understand about result of Socialization process of women and men. Gender needs including the Practical Gender needs (PGN), Strategically Gender needs (SGN) and equity over equality related session was conducted through Simulation and Small group discussion.
Then discussion was conducted about the concept of patriarchy and source of patriarchy (Myth, law, religion, custom). A video presentation with small group discussion was conducted to share the result of patriarcy including the Gender Based Violence (GBV), the life cycle of GBV and forms of GBV and causes of Gender Based Violence and Places. Then the question answer session was conducted about the IBP safety food and relation with Gender based issue. Then the large group discussion was conducted on Referral mechanism and the importance of referral mechanism to prevent gender based violence. Lastly the role of members to Prevent and protest GBV was discussed through group work.
In the first day program discussed the beginning of training program with a warm introduction with each other's and topics were discussed about practical experience of each other's positive and negative experience that relate to personal conception and attitude of the topics. Someone's positive issue could be others negative cause of perception. Due to different issues people's diversification approach should take positively otherwise there would be imbalance in human attitude.
After that briefly describe the following topics with games, group discussion, brain storming, and sharing group in large and small.
Human Rights and its principle with large explanation with example.
Position and condition of Men & Women in enjoyment and practice of Human Rights
Access and power of women in society
Information and Resource
Decision making etc. discussed through poster showing, group discussion and game with brain storming for whole day long program.
Inheritance laws for Muslim and Hindu Women in Bangladesh, briefly described.
Discussed about the men and women social aspect with game, Tri noyonpractise and open discussion.
Ownership of assets, information knowledge, diplomatic power of women in heritance, education and Land power.
At the last day of training program finally discussed about the Gender-based violence in the workplace, where by participants the following discussion has found:
Mental torture:
Interfering with social communication
Women are not allowed to participate in meetings or workshops
Not allowed to contact the chicken seller outside for selling chickens by issuing bad terms
Not giving any space to sharing women advice for farm improvement and issues.
Economic torture:
Not giving any opinion of women as to the profit of selling chickens
Inappropriate imbalance of nutrition.
No freedom of using profit or money from the farm income.
Not giving women ownership of farms or farm lands
Indecision
Women farmers have given no rights for poultry selling, purchasing etc.
Powerless
There is no power to talk about anything about the farm, even questioning how much of the eggs or meat produced on the farm women get for themselves.
What to do for Gender issues in workplace:
Women to be considered during discussions in the workplace
Open platform for the women to raise their voice in the meeting.
Encourage women for farm registration.
Bringing backward people to the forefront
Referral likeminded organization with gender violence issues in meeting.
Awareness creation about gender violence in sharing meeting with women.
Women feedback accepting during discussion of meeting place consideration.
Including youth and women in the meeting.
Provide support for women leadership development in workshop
Increase women's participation in various national days
Formation of sexual harassment prevention committee at institutional level
Institutional GESI form filling.
Before ending the program IBP Coordinator Md. Nurul Islam Biplob took a session on PROKAS approach an IBP FS goal in poultry sector. Elaborately discussed and explain how the promoting knowledge for accountable system works, where works, what is the aim of IBP Food safety want to do for farmers and also how it will works. Also segregate the result areas of works for IBP FS in poultry sector and said that "with local administration and other NGOs replication of joint monitoring visits, recognition of UCC model and replication of other PROKAS FS IBP intervention. Also with the DLS, online registration and license, dealer license, farmer's registration etc.
All the participants expressed their satisfaction about all the contents of the training. They mentioned that this training course is very much essential for them not only for professional purpose but also their personal life. They also provided their commitment to follow the rules and responsibilities to prevent the GBV in their organization. They also urge for additional training for their colleagues and refresher in a certain period interval.
---
For Print Click Here
---
Comments Must Be Less Than 5000 Charachter