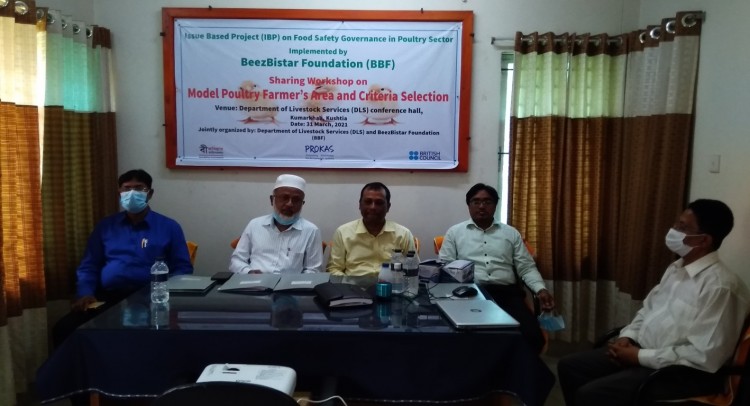 Model area for safe poultry production sharing workshop was held at DLS conference hall, Kumarkhali, Kushtia on 31st March, 2021. The workshop was jointly organized by Department of Livestock Services (DLS) and Beez Bistar Foundation (BBF). There were 41 participants participated in the meeting from DLS, Department of Health, Local Government Institution, DLS project of LDDP and NATP, Poultry farmer, Live Bird Market, feed dealer and CSOs representatives.
Dali Bhadra, Field Coordinator, BBF, Kumarkhali welcomed the participants with her welcoming speech. Then an overview on IBP Food Safety achievements and model areas and poultry farmers selection had been addressed by Jahangir Alam Jony, General Secretary, BBF. Dr. Md. Aminul Islam Molla, Divisional Director, DLS, Khulna, participated in the event as Chief Guest. Dr. Md. Siddiqur Rahman, District Livestock Officer (DLO); Kushtia Chaired the event. Dr. Md. Nure Alam Siddique, Upazila Livestock Officer (ULO); Kumarkhali and Dr. Md. Akul Uddin, Upazila Health and Family Planning Officer; Kumarkhali, Md. Nowsher Ali Biswas, UP Chairman; Kumarkhali participated in the event as Special Guest
Jahangir Alam Jony mentioned that the project begun October 2017 and have been significantly contributing for enrichment of food safety governance in poultry sector with the active participation of respective government departments, Local Government Institutions (LGI), Private sectors and Civil Societies. During this period the project have improved the lives of the poultry stakeholders in a range of key areas by creating system changes and increasing transparency and accountability. The project brought together the government, civil society and the private sector to develop partnerships and promote new ways of working that better serve the citizens food safety growth and development of poultry sector. The present phase the project have planned to concentred its intervention for following areas of work included a) Policy influence / reform with the ministries by engaging with relevant government and private sector ( eg; DLS, BFSA, BSTI, FIAB, WPSA, AHCAB) in relation to National Poultry Development policy 2009 and Animal and Fish feed Act 2003; b) Develop Model areas for safe poultry production c) Formalization and replication of Upazila Consumer Committee (UCC) model and Replication of UCC model. The project interventions with multi stakeholder engagement and collective action will lead to the production of safer poultry products for citizens and increase of the economic benefits to small-scale farmers including the women and youth.
Dr. Md. Aminul Islam Molla, Divisional Director, DLS, Khulna said "Model poultry farmers are great pilot demonstration which will help safe poultry production and value chain. We are as DLS are very much thankful to BBF for this great initiative. The areas including Nandalalpur Union and Jadubaira Union being declared as Model Union for safe poultry production which are perfectly logical and all kinds of merits for safe poultry production exists both of these unions. DLS is with this initiative and will be also future working together for its successful implementation."
Dr. Md. Siddiqur Rahman, District Livestock Officer (DLO); Kushtia said, "I am very happy that BBF is going to model area for safe poultry production. This is very innovative idea for poultry sector. This is basically DLS job but BBF led this initiative in consultation with DLS. We DLS and BBF have been working together for establishment of model area for safe poultry production. I hope the relevant other stakeholders will become interested and will replicate all over countries."
The other key stakeholders participated in the workshop including LDDP, NATP, Local government Institutions, poultry farmers, feed dealers, LBM actors, UCC members, journalist, and academicians made their solidarity and extended their hands for successful interventions of model area for safe poultry production. The workshop dreaming that these model areas will demonstrate to improve the working relationship between the government, civil society and the private sector in order to make society fairer and more inclusive for enrichment of safe poultry value chain.
---
For Print Click Here
---
Comments Must Be Less Than 5000 Charachter