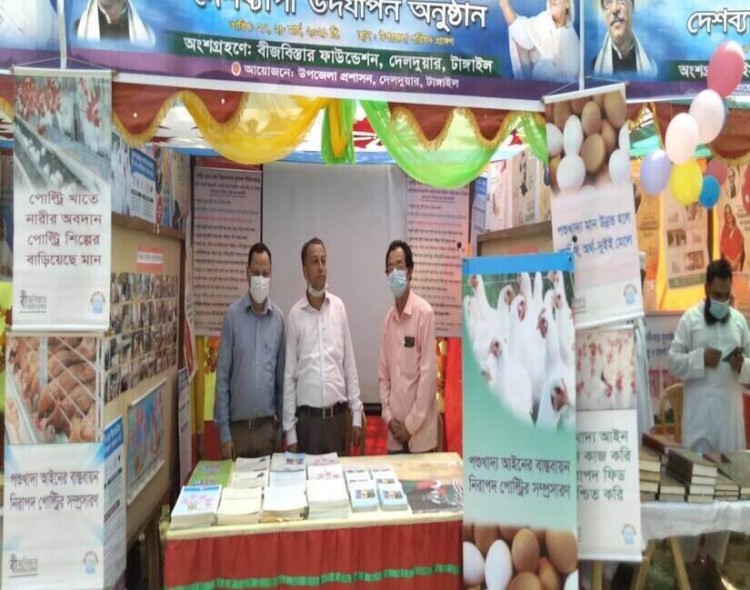 A two-day development fair was held at Delduar Upozila in Tangail district on the eve of Independence day, keeping in view the unique achievement of Bangladesh, the transition from a least developed country to a developing country. BeezBistar Foundation (BBF) took part in this fair proudly with its messages and themes to deliver before common people. BBF presented in 25 No stall of this fair. During that time BBF delegates shared their notes and leaflets on food safety and ecological agriculture practices to people with a view to raising awareness and collect comments on their comment register for gathering peoples' opinion about BBF approaches.
Md. Ahasanul Islam Titu, honorable member of the parliament-06, inaugurated the fair by blowing balloons and pigeon at the Upozila Parishad premises at 11 am. Md. Imran Khan, Assistant Commissioner (AC) Land, Upozila chairman Eng. Md. Maruf Hossain, Upazila Executive Officer, other government officials, BBF representatives and UCC members were present among others.
Earlier, a colorful rally went around various streets of the union and ended at the Upozila complex through maintaining social distance. According to the organizers, 30 stalls including government, non-government, various organizations and women entrepreneurs took part in the two-day fair organized by the upazila administration.
On that event, inaugural speech was given by Md. Shoyaeb Mahamud, Upozila agricultural Officer, Delduar Upozila. He had added that Bangladesh is getting developed day by day and the major contribution came from agricultural sector. He also mentioned the contribution of Livestock farmer for meeting up the national protein demands. Moreover he offered his thanks and wishes to all the agricultural stakeholders.
Md. Abu Taher Talukdar Bablu, Honorable freedom fighter also offered his speech. In his speech he recalled some memories of liberation war and told since ancient time Bangladesh was suffering from malnutrition and food scarcity but now a time we have reached self-sufficiency in foods and all that credit goes to the contribution of agricultural development including farmers. He offered his wishes and prayed for the success of the program.
Md. Ehsanul Haque, Upozila Chairman, Delduar, Tangail offered his speech. In his speech he told about the liberation war of our country and offered his honor for the martyrs. He drew a view of development of Bangladesh and told that our developmental curve is uprising for the last decades. He thanked for the Bangladesh government for continuing the ongoing developmental activities.
Upozila Livestock Officer provided speech on the overall development of that upozila. He told about the fulfillment of electricity during irrigation period, availability of quality seeds, and better technical service for the farmers in village level, govt. incentives, and skill development trainings. He ensured that he will try his maximum effort for the betterment of agriculture and concluded his speech.
OUT COME OF THIS EVENT:
All the government and NGO offices exhibited their activities to the people.
National development, achievement, mission and vision were discussed and delivered to the people.
Beezbistar Foundation (BBF) presented its messages and activities to common people via stall exhibition.
Lots of organizations came to our stall and discussed how to collaborate our activities with them.
Govt. and non govt. banks delegates came to the fair and discussed on soft loan process and requested for more farmers cooperation.
This fair had completed successfully and did a great job to the villagers in many ways. To the village people it was a great opportunity to know about multi-stakeholders services related to agricultural activities. So, this development fair played an important role in raising awareness among villagers. A cultural event was held at the fair ground in the evening. It was a great source of amusement and recreation to the rural life. That's why govt. should arrange this type of fair regularly to deliver their messages to the common people.
---
For Print Click Here
---
Comments Must Be Less Than 5000 Charachter