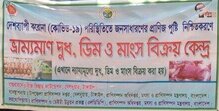 The pandemic situation of COVID 19 joint initiative was taken for providing marketing support of poultry and dairy products in Tangail. This collective initiative was taken by Tangail District Administration, Department of Livestock Services (DLS), Upazila Consumer Committee (UCC), Dairy and Poultry farmers association, and Beez Bistar Foundation (BBF).
The event was launched on 11 April 2021 by Md. Ataul Gani, District Commissioner (DC), Tangail. Dr. Md. Rana Miah District Livestock Officerr (DLO), Md. Hasan-Al-Sharif Liaison and Monitoring Officer, staff members of Beez Bistar Foundation were present among others. General Secretary of Poultry Association, President of Dairy Association, UCC members of sadar and Delduar, poultry farmers, dairy farmers, LBM actors and feed dealer were also present.
The mobile marketing of poultry produce and milk were demonstrated by pick up van with banner. This vehicle moved around in various spot of Tangail city including DC office compound, Niralar mor, Notun bus stand, Puraton bus stand, Choyani bazar, Pachani bazar, Shantikunjer mor and baby stand. The products sold in the event included 5000 eggs, 400 chicken and 250L milk.
BBF distributed awareness raising leaflets among people for taking more poultry and dairy product especially in covid-19 situation. The products were procured directly from the farmers and sold among the consumers.
The intervention drawn a huge attraction of common people in city and consumers became very happy for the safe and healthy poultry products they received with easy access and with reasonable price. This initiative was very helpful both for the farmers and consumers in this pandemic situation.
---
For Print Click Here
---
Comments Must Be Less Than 5000 Charachter