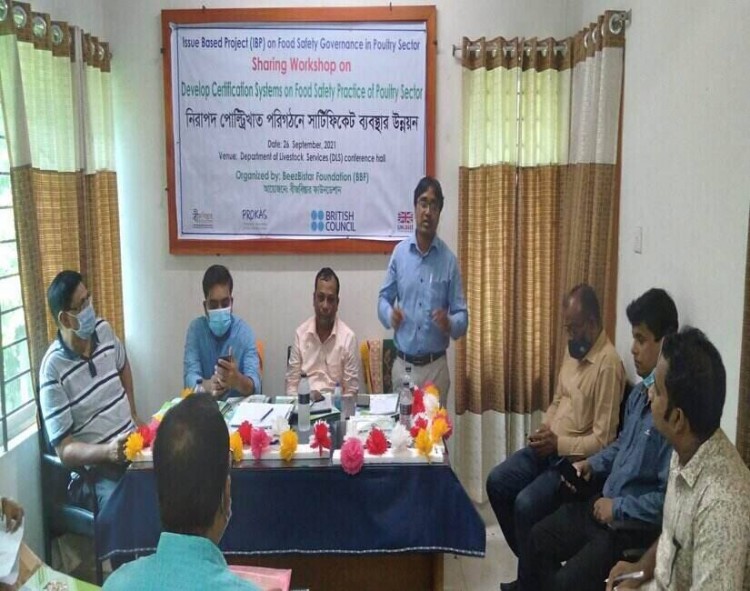 A workshop was held in Department of Livestock Office (DLS) Conference Hall, Kushtia on 26th September on "Develop certification system on Food Safety Practice on Poultry Sector". In this workshop total 27 participants were present including Dr. Md. Siddiqur Rahman, District livestock officer (DLO); Dr. Nure Alam Siddque, Upazila Livestock Officer (ULO); Dr. Md Arshad Chowdhury, Livestock Extension Officer; Md. Arafat Ali, Upazila Sanitary Inspector; UCC members, LGI, CSO, Dealers, Farmers and BeezBistar Foundation (BBF) staff members. The main objective of this meeting was to create a certification system for model poultry farmers who maintain the safe poultry management system. The DLO attended the program as chief guest.
Dali Bhadra, Field Coordinator of BBF, Kumarkhali gave her welcome speech to all. Then all the participants introduced to each other. After that the next session began which was an overview on Model farmers criteria achievement and IBP Food Safety Achievements and way forward. Here, the intervention of model farmer, achievements and outcomes was discussed briefly and the next plan of IBP food safety was also shared.
Then a brief discussion on model farmer demonstration began where the voice of the farmers was heard. The poultry farmers who were present shared their experiences and challenges to the DLS officials and also seek help of their problems. A model poultry farmer, Selina Begum from Jaduboyra demanded for proper training on broiler farming and Govt. vaccines.
The ULO committed that he will arrange free veterinary camp for model farmers only in every months at free of cost. He also added that joint monitoring on their area will be continued at their own efforts in other union of that upazila and he will try his best to stock vaccine for his upazila. He also said, LDDP subsidies will be ensured for each loss leaded model poultry farmers and other services from LDDP will be included model farmers. He committed to train the new comers who are between 18-35 years old. After training each farmers will be assured with soft loans and for further requirements farmers can be communicated with Karmashangsthan bank for large scale loans. In future, the farmers who would maintain biosafety and model farmers criteria will be included in "Attwa kormi" program.
Hotel Owner Society President, Mr. Sudhangshu Kumar Ghosh said in his speech that if the hotel owners are assured with quality products then they will surely pay a premium prize for the safe poultry products.
Upazila Sanitary Inspector, Mr. Arafat Ali told that he will help with his maximum efforts if DLS would replicate the concept of joint monitoring beyond the BBF working area.
Md. Rafiqul Islam, Counselor, Pouroshova, kumarkhali also gave a speech and informed the audiences that, in BBF working area around 90% farmers are practicing safe farming. To promote the model farmers' safe products, he will talk to the mayor and will discuss to establish a safe selling point for safe broilers which will come directly from model farmers.
The president of Merchant society, Mr. K M Alom Tome, told that if model farmer could provide a quality product then will be ready to pay a premium price for that.
Then the Chief guest Dr. Md. Siddiqur Rahman, DLO gave his valuable speech and gave some information and valuable suggestions. He told about AMR and its harmful effects, batch intervals should be given a maximum priority, poultry birds have no treatments so we need to focus on biosecurity and hygiene, prohibition on farm entrance for common people surely be restricted for every farms, strong regulation and monitoring from Govt. to all the privet agro-vet companies should be emphasized. He also informed that, LDDP is going to establish a safe and hygienic slaughter house with the consultation of Pourahsova at kumarkhali. He further committed to replicate the approach of joint monitoring at the other upazilas of Kushtia.
After the brief discussion the DLS officials agreed for the certificate system for model farmers and DLO approved the certificate by signing on the draft. Then the closing remark was given by Nowsher Ali Biswas, UP Chairman and UCC member. He thanked all the participants to participate in this meeting. All the participants were satisfied by this event and were happy to share their thoughts. At the end of the program the DLS officials gave the model farmers safety equipment- gloves, apron, hand sanitizer which was an active initiative of BBF to support farmers for safe poultry farm management.
---
For Print Click Here
---
Comments Must Be Less Than 5000 Charachter